Viz Media has been bringing back a lot of older titles that have gone out of print. Most of the titles have been from former English publisher Tokyopop through Japanese publisher Kadokawa Shoten. Last week Viz announced another three titles from the Toykopop/Kadokawa Shoten licenses.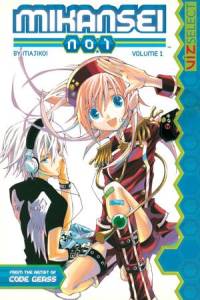 Mikansei No. 1 is a two-volume series by creator Majiko, whose other titles include St. Lunatic High, which was also published under Viz Select, and Code Geass: Lelouch of the Rebellion originally published here by Bandai. I really wouldn't surprise me to see that one show up at some point. Mikansei No. 1 is about a girl named Neo who was born into the wrong century. She loves to sing and wear short skirts despite the more modest fashion of the 23rd century. Accidentally transported back in time to the 21st century, she teams up with the handsome Saya, and becomes half of singing duo. But to make it big, they need to put on a concert. It's up to Neo to keep time on their side. At two volumes it might be interested in checking it out. I didn't care for St. Lunatic High, her only other original title I've read, but this one sounds like it has potential.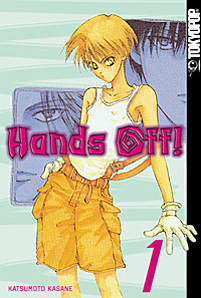 Hands Off! is an eight volume shojo series by Kasana Katsumoto, whose other works lean toward the smutty side of josei, so needless to say, we won't be seeing anything else from her any time soon. Hands Off! follows Kotarou Oohira, a boy with a clueless touch-he can transmit a kind of ESP through physical contact. He accidentally give it to his cousin Tatsuki, and comes to realize there more to his gift than he imagined. I'm not quite sure what to think of this series. I've seen volumes of it go by on trading site such as Paperback Swap, so it definitely got around. The action and intrigue does sound interesting, the gentle boy touching, not so much. This series also had a prequel, Hands Off: Don't Call Us Angels.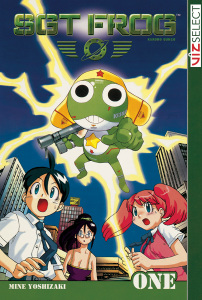 The title I'm most excited to hear about it Sgt Frog by Mine Yoshizaki. Tokyopop released 21 volumes, with the 21st being among the last titles released by the company. Sgt. Frog follows the misadventures of Sgt. Keroro, a frog-like alien and his platoon of misfits from the planet Keron. Sent to Earth to conquer it, instead, Keroro blows his cover and loses his top-secret weapon, cutting him off from his home world. On top of that, he's lost his platoon!  He makes a deal with the Hinata family, and in exchange for doing chores around the house, he gets his own room from which to plot his next secret plan to take over the world. And build Gundam models. Sgt. Frog is a great gag manga with a crazy cast of characters. I will definitely pick up the volumes I'm missing of this series. Maybe I'll go back and read all the previous volumes in order to be ready!