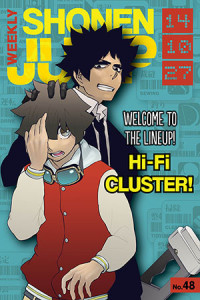 Viz Media's Jump Start! has been busy lately. Several titles that have debuted in the Japanese Weekly Shonen Jump are getting their first three chapters published in the US digital magazine. Readers then get a chance to vote which ones they'd like to see serialized in the digital edition. One title has already gone through the process. Hi-Fi Cluster was previewed in September, and joined the magazine at the end of October, along with Food Wars. Hi-Fi Cluster is a sci-fi crime series. People can now download skills they don't have to a patch. A black market has sprung up that deal in buying and selling of said abilities. The series follows Kosaku Kandera as he leads Special Unit Six of the Metropolitan Police Department to stop these crimes by any means necessary.
The next title to jump start was éIDLIVE, by Akira Amano, the creator of Hitman Reborn. It follows Chuta Kokonose, a boy who hears a voice in his head that gets him into a lot of trouble. He's already thought to be an oddball, but when he meets a little blue alien, things start to get really weird. This series was originally serialized on Shueshia's digital app Jump Live, and has already completed two "seasons". The Jump Start will begin at with season 1. It ran back in September.
November saw three new titles get the Jump Start treatment. Takujo no Ageha: The Table Tennis of Ageha is a "high tension, ping-pong manga. It's the second sports manga to get the Jump Start treatment. The series started as a one-shot that ran in Weekly Shonen Jump back in June. E-Robot also started as a one-shot that ran back in January. It follows the adventures of a sexy and powerful robot girl.

Gakkyu Hotei (School Investigation Court) started on the Jump Live digital app and is relaunching in print. This "shocking court mystery" follows the court trials of offenders in an elementary school. With increasing problems plaguing the elementary school system, a new solution is enacted; the School Judgement System. Students must stand trial and be defended by their peers in this new court system. Gakkyu Hotel is written by Enoki and illustrated by  Takeshi Obata. It has joined the digital Weekly Shonen Jump lineup this month.
While not a Jump Start series, RKD-EK9 is another title illustrated by Takeshi Obata. It is written by NishiOisen, writer of the Shonen Jump title Medaka Box. The one-shot originally ran in Jump Square back in November, and is running the US digital Weekly Shonen Jump as a special issue while all the regular titles take the week off for the holidays.
So, out of seven Jump Start! titles, we have two confirmed serializations. Both of these titles sound like things I'd like to read. Hi-Fi Cluster has some of the good elements from the Matrix and sounds like it's full of action and some procedural elements, two things I like. Gakkyu Hotei is a mystery and court procedural series that I just don't think we have enough of, so I gladly welcome it to the Shonen Jump ranks. Though, with Obata being the artist on the series, it's of little surprise that it topped any fan polls.
Of the titles that didn't make it, I'm not too surprised that Takujo no Ageha didn't make the cut. Sports manga, even ping-pong it seems, just doesn't appeal to WSJ readers. I'm glad E-Robot didn't, not with a description that includes "Erotic Robot", "advanced features", and "full power". I'm sure it's meant to be a comedy, but I doubt it was very funny. éIDLIVE may just be too far on the weird side.