Lawrence Kraft is a traveling merchant, going to towns and villages, making deals for items to barter and sell. While passing through the village of Pasloe on day, he picks up a stowaway on his chart; Holo the Wisewolf, the Harvest Goddess of the village. The villagers no longer need Holo, and she wishes to go home, in the north. She and Lawrence strike a deal, and they begin their adventures together on the trip north.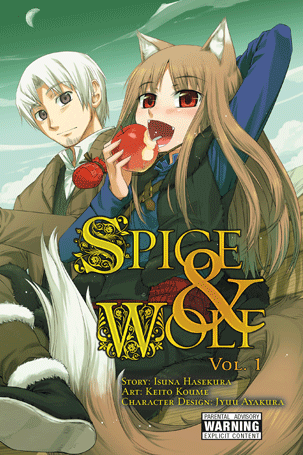 Spice and Wolf Volume 1-6
By Keito Koume
Publisher: Yen Press
Age Rating: Mature
Genre: Fantasy
Price: $12.99/ea
Rating:





Spice and Wolf is a series that started out as a light novel and was adapted into both an anime and a manga. After the anime was favorably received by fans, Yen Press licensed both the light novel series and manga. There was a bit of an uproar when the first light novel came out, because Yen Press had chosen to use a cover that would appeal to Young Adult readers more than to anime fans. To appease the fans, Yen Press offered a book cover with the original cover art on it. I'd heard reviews of the first light novel, and while the idea of a series that looks at economics sounded interesting, it didn't seem to translate as well in practice. After receiving some copies of the manga for review, I gave in and read the first six volumes.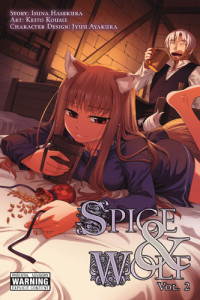 Spice and Wolf takes place in a fantasy world similar to late middle ages Europe. There are kings and knights, and a church stretching out its influence to wipe out all "pagans." There is also a lot of commerce. As a merchant, Lawrence is always on the lookout for a chance to make a profit, so the stories focus a lot on economics and trade. If you're looking for swords and battles this isn't the manga for you. If you aren't interested in the finer details of currency speculation or identifying counterfeit coins, then this title might not be for you either. Honestly, this title nearly lost me after the first volume. It was very slow-moving and the all the economics made me wonder if anything was going to happen. The action started to pick up in the second volume, relieving some of the tedium of the first. But what really grew on my were the characters.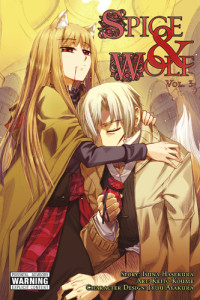 Kraft Lawrence is a traveling merchant. He is always on the move and always looking for something to buy or sell to make a profit. He is young and has been traveling for 7 years. His dream is settle down and own a shop in a town somewhere. He is kind and perhaps a little too soft-hearted when dealing with people, but in business, he is very shrewd, though sometimes becoming overconfident, which puts him into some serious trouble in volumes 4-6. He is also quite likable. He has a dry sense of humor, and easily trades barbs with Holo.
Holo is a little more complex. She is literally a giant wolf and has lived for hundreds of years. She was already old when she settled in the village of Pasloe. Her age, strength and wisdom does make her haughty at times, and she can be vain as she is constantly grooming her tail. But, after years of being alone and disregarded by the village she protected, she is also very lonely. If she fears anything, it is being alone again. I wasn't sure how to feel about Holo at the beginning. Her haughty attitude did start to sway me toward disliking her. But when she stopped trying to be superior and opened up a little to Lawrence, I started to like her more. She often speaks in an old-fashioned dialect and has her vulnerable moments, which endeared her to me.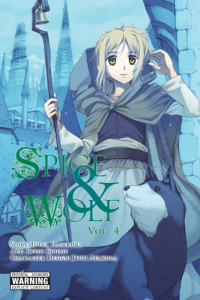 It's Lawrence and Holo's relationship that really made this an enjoyable series for me. It builds slowly, as they get to know each other. Just like in any relationship, they have their misunderstandings, but they work them out. Their feelings for each other grow though they both think a relationship wouldn't be possible. But that doesn't stop Holo from getting jealous of Norah, a young shepherdess they meet on the way to the town of Ruvinheigen. Lawrence has his share of young men to ward off as well. I really enjoyed the sweet moments between Lawrence and Holo, such as when Holo asks Lawrence to say she's important to him. It only lasts for a few panels before she laughs it off, but it is a heartwarming moment nonetheless. It's all of these little moments that really made me want to keep reading the series. I'm torn as to whether I want to see them eventually get together. I think they make a great couple, but at the same time, I like them playing the unresolved tension game as they keep their feelings to themselves.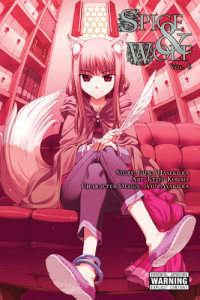 There are all kinds of adversaries for Lawrence and Holo to face as they work for their profit, but the one that is a constant through these volumes is the Church. It appears to be based off the Catholic Church of the late Middle Ages, with all its power, and burning pagans at the stake. Fortunately, they don't have power everywhere, as there are towns where it doesn't wield any, but in the ones it does, it's pretty terrible. Norah, the shepherdess introduced in volume 4, appears to be an orphaned girl who works for the church. But the more she works and succeeds, the more she is seen as a witch and comes under suspicion. And the fact that she works for the church, keeps people away so she can't live a normal, happy life. I've never cared for religion, and this portrayal of it just reinforces my feelings, since this isn't just written for the drama. Religion has really done and endorsed such things, and sadly still does. I did like how Lawrence is a pragmatist about religion. He doesn't seem to believe in it, but he knows the rules enough to play along so as to keep him out of trouble and keep him trading. Even with Holo in tow.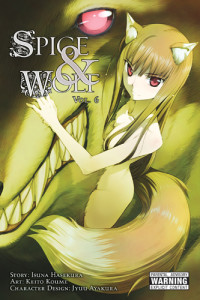 This series is rate M for mature, has a warning label for "Explicit Content", but really, all it has is some nudity. Holo, as a wolf, doesn't give a second thought about going around with no clothes and really the only thing shown are her breasts. I didn't mind it, and think the warning label might be overkill, since all the nudity is done in a non-sexual way. But, this is the United States, with its over reactive, puritan views of nudity that have to be hidden away from teens, while violence is perfectly acceptable.
It took a volume to for the art to grow on me. It's the big eyes that took awhile for me to get used to. You'd think as a long time manga and anime fan, I would be used to "big eyes", but really, there is such a variety of that look in manga, and Koume's was different from what I was used to. I really liked Lawrence's design, and he and Holo together make a cute couple. Holo in her wolf form is quite impressive as well. She has some jaws that you do not want your head between.
Once Spice and Wolf stopped lecturing and starts showcasing its charming characters, it became a very entertaining series. I don't mind the economic elements sprinkled here and there, but the when it over does it, it's easy to lose interest. If you can get past the slow-paced first volume, there is a lot of fun and action to be enjoyed.
Volumes 4-6 provided by the publisher.