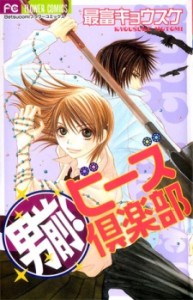 I love to do crafts and have dabbled in quite a few, including beading. I've made mostly earrings back when my eyes could see the tiny beads and my more nimble hands could hold them and string them on the needle and thread. Now, I am more content to read about it.
Otokomae! Bead Club is a one shot volume by Kyousuke Motomi. Her name is well-known among western shojo manga fans. Two of her titles, Beast Master and Dengeki Daisy were licensed and released in the US by Viz Media. Her newest title, QQ Sweeper has also just been picked up, with the first volume out later this year. This title is an earlier series first published in 2004 in Shogakukan's Betsucomi magazine. It ran for three chapters, and the compiled volume includes a side story and extra.
The story follows Oikawa Ibuki, a high school girl who has just transferred schools so she can start over. She is very strong and versed in the martial arts, but she wants to be more gentile and feminine, and find a boy who is stronger than her. On her way to her first day, she meets Takumi Urabe, a mysterious boy who carries a shovel and seems able to command crows. In her introduction, she claims to like to do beading, and is then introduced to the beading club, an eccentric group of kids who all share a secret. And Ibuki has just been made a member!
I was drawn to Otokomae! Bead Club just because of the title, but when I learned who the mangaka was, this title became an instant want. I'm really surprised it hasn't been licensed by Viz yet. It's only one volume, and features a lot of elements that have proven popular in other titles; a boy who commands crows, a girl who is really tough be wants to be seen as gentle. Throw in Motomi's fun characters and playful art, and it's got to be a sure seller! Maybe if QQ Sweeper does well, we can get this title as well.