Viz Media has been expanding its line of titles recently, reaching into the superhero genre that is usually reserved for American comics. While much of shonen manga features characters that could be seen as super-heroes, they aren't quite like the superheroes Americans grew up with. With the growing popularity of superheroes in American mainstream media, it's not too surprising that we're seeing more superhero manga coming over.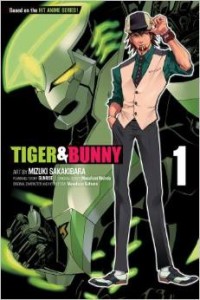 Tiger and Bunny – This series began as an anime which spawned the manga series. It follows the veteran hero Wild Tiger as he take on newbie partner Barnaby Brooks Jr. Both men are NEXTs, people born with super powers. They protect the city of Stern Bild and compete on the TV show HERO TV with several other heroes and have corporate sponsors. Wild Tiger takes being a hero seriously, including the secret identity and fight for Justice. Barnaby seems to be in it for her fame and fortune. These two very different personalities with the same power constantly clash, but not all masks are obvious. The first two volumes of this series were included on the YALSA Great Graphic Novels for Teen list for 2014. There are six volumes out, and it is available in print only.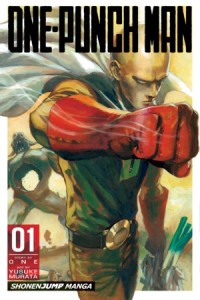 One-Punch Man – This series is a digital only exclusive for Viz Media and is serialized in Weekly Shonen Jump. Saitama has trained for years to become a superhero.  He trained so much that he lost all his hair. But his hard work paid off and he became so powerful that he could defeat any villain with a single punch. But it seems he's too good, as there is no villain out there to challenge him and give his live meaning. The series follows his search for an arch-villain as takes on all kinds of monsters, joins the Hero's Association and becomes involved in the battle to save the Earth! Just like any good superhero would. This series began as a web comic where it went viral and jumped to print in Japan, but not here yet. There are six volumes available.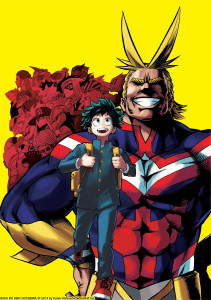 My Hero Academia – This series just started in Weekly Shonen Jump. It is a simultaneous release with the first chapter running during Weekly Shonen Jump's anniversary month. The series follows Izuku Midoriya an ordinary human in a world of the extraordinary. He is a rare mutation that has no superpowers, but wishes nothing more than to be a superhero. One day he meets All Might, the world's most famous superhero. He ends up helping All Might, showing he has the most important quality for being a hero; heart. All Might decides to help Izuku and gets him into Yuhei High School, where heroes are cultivated. The mangaka of this series, Kohei Horikoshi, had another series serialized in WSJA. Barrage gained a following here, but only ran for 2 volumes. There are two volumes of My Hero Academia out in Japan, but it looks to have a much brighter future. Viz will release the first volume in print and digital in August.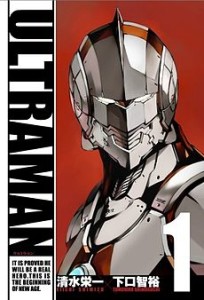 Ultraman – This series is based on a Japanese TV superhero that originally ran in the 1960s. Ultraman is an alien from the Land of Light. He comes to Earth and takes over the body of a human pilot before he dies, giving him a second chance on life as well as a secret identity for Ultraman. Giant monsters called Kaiju have been attacking Earth, and Ultraman lends his strength to stop them. This manga is written as a direct sequel to the first TV series. Shinjiro is the son of Shin Hayata, the Scientific Special Search Party pilot that first joined with the Giant of Light. Many years have passed since there, and the world is at peace, but the darkness is growing again. Shinjiro, now a teenager, learns he has inherited the "Ultraman factor" from his father, and must take up the mantle of Ultraman to stop this new menace. The series is currently serialized in the online magazine Monthly Hero, and there are 5 volumes out so far. It will be published under the Viz Signature imprint and the first volume will be released in August.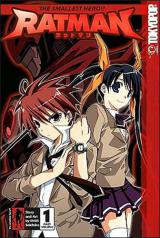 Ratman – This series was originally published by Tokyopop who only released 4 volumes. Viz has picked it up for their Viz Select line. It is about Shuto Kasuragi, a teenage boy who dreams of being a hero. He is kidnapped and tricked by the Jackal Society into using a watch that gives him super powers but also makes him a villain. Instead of giving in or giving up, Shuto uses his new-found powers to become Ratman, an anti-hero who will still fight on the side of justice. You can see a lot of elements from this earlier series in some of the newer ones. Corporate-sponsored heroes, a boys who wants nothing more than to become a hero, and a Hero Association to validate all heroic deeds. The series ended in 2013 and went for 12 volumes. Viz released the first digital volume on March 24th.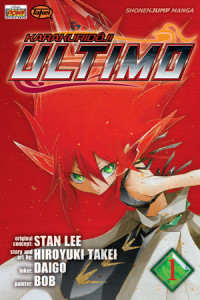 Ultimo – This series isn't a superhero series per say, but it originated from one of the fathers of Marvel Comics, Stan Lee. In collaboration with Hiroyuki Takei, the creator of Shaman King, the story has a lot of Stan Lee's touches. Teenager Yamato has both money and girl problems, but his life is turned upside down when he finds Ultimo, a peculiar looking puppet. He awakens Ultimo and is drawn into the fight between him and his arch rival Vice, who are battling to see if good or evil is more powerful. The series not only has over-the-top battles, but also delves into reincarnation and time travel. There are currently 12 volumes available in Japan, while the US has 10. The series will reach its climax this July in the new Shonen Jump magazine spin-off. It is available in both print and digital.