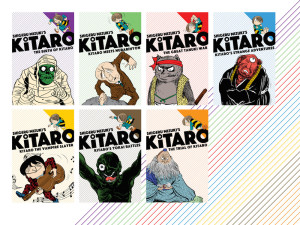 Back in 2013, Drawn and Quarterly introduced Western readers to Kitaro, a yokai boy who grew up in a grave yard and is the last of the Ghost Clan. Kitaro is the creation of Shigeru Mizuki, the mangaka who is credited with the yokai boom that started back in the 1960s. The 400+ volume was a collection of some of Kitaro's best stories and was named as one of YALSA's Great Graphic Novels for Teens in 2014.
Drawn Quarterly has now announced that they will be releasing 7 more volumes of Kitaro, and packaging them in more "kid-friendly" size and price. Kitaro follows the adventures of an inhuman boy who straddles the line between the world of the living and the supernatural. He helps both humans and yokai, who are troubled by either other humans and yokai. The first volume announced is "The Birth of Kitaro", and features stories about Kitaro's origins, introduces popular recurring character Neko Musume, a girl who turns into a cat when she is hungry or angry, as well as drawing heavily on Japanese folklore. Kitaro will have to take on legendary yokai like Nopperabo and Makura Gaeshi, as well as recurring villain Gyuki.
The first volume will be out in March 2016, with successive new volumes coming out in the spring and fall through 2018. The other six titles have been announced as:
Kitaro Meets Nurarihyon
The Great Tanuki War
Kitaro's Strange Adventures
Kitaro the Vampire Slayer
Kitaro's Yokai Battles
Trial of Kitaro
Each volume will be about 150 pages and will retain for $12.95. It appears each volume will be a collection, collecting similar stories to create a theme. The stories will all be translated by Zack Davisson, who also translated the first volume, and who is a big avocate for Kitaro and Shigeru Mizuki. Critics have wondered why Drawn and Quarterly would release more Kitaro after the first volume didn't sell as well, but the first volume was designed for older fans and collectors that can afford a higher price point for a thicker volume. By making the books smaller and at a lower price point, it can attract younger fans who have been discovering yokai their other manga like Nura Rise of the Yokai Clan and Black Bird, and may be looking for similar titles. And you know it's not just teens that will be picking up these books. Older fans have been clamoring for more Kitaro, and finally their wish has been granted.