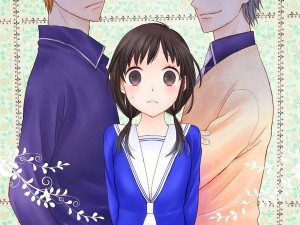 Fruits Basket was a big license last decade. The shojo about a family cursed to turn into one of the Chinese Zodiac when they hug someone of the opposite sex was credited with such a big seller for Tokyopop that it kept the company afloat for several years. Sadly, the series has been out of print ever since Tokyopop lost the license and ended publishing 2011. Japan however is getting a 2-in-1 collectors edition re-release of the series. To celebrate this, mangaka Natsuki Takaya will launch a sequel series on Hakusensha's HanaLaLa Online website for free, with new chapters available every Friday starting September 4.
Fruits Basket another takes place after Torhu has graduated high school and will follow a girl named Sawa who has just entered high school. The main cast will not be featured in this sequel but might be mentioned in conversation. You can read the sequel without having read the original, but fans will get more of a laugh out of the new series. This series is meant to be short, only 2-3 volumes long.
Natsuki Takaya has been on an extended hiatus from her current manga, Liselotte to Majo no Mori, due to illness, but this new manga does not mean she is ready to get back to work. She will resume work, little by little, starting with this new series, as well as new covers for the collectors edition of the original series.
Fruits Basket is one of the titles that really deserves a license rescue. Like Sailor Moon, Fruits Basket is one of keystone titles that helped to grow manga in the US and it should be back in print as well. Perhaps this collectors edition can be the gateway to bringing back Fruits Basket. It has the name recognition and nostalgia that would make a deluxe hardcover more attractive to fans. Added extra such as the color cover pages from the original magazine, and reduced number of volumes from 23 to 12 only sweeten the deal. Viz Media seems to being doing well with getting old Tokyopop titles from Hakusensha. Maybe this can be the big surprise announcement at Anime Expo/San Diego Comic Con next year.