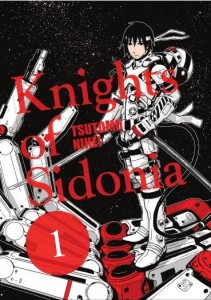 It has been announced that the manga, Knights of Sidonia,  will be coming to an end in the November issues of Kodansha's Monthly Afternoon magazine due out in September.
The series is by Tsutomu Nihei and was launched in 2009.  It is a sci-fi manga about the lone seed ship Sidonia which carries the last of humanity in search of a new planet to call home while it battles against a strange alien race known as the Guana, who originally destroyed Earth's solar system and still hunts humanity.
Nihei had hinted that the series was reaching its climax back in July when Kodansha released Monthly Shonen Sirius, a special book that was dedicated to Knights of Sidonia. The book featured several one-shot manga by other artists.
I've really enjoyed Knights of Sidonia, and it seems to have done well so far here. It was included in YALSA's Great Graphic Novels for Teens list in 2014. The manga also got an anime adaptation that spanned two seasons and was streamed on Netflix. It's a great series with plenty of humor and drama, and the hint of romance mixed in. The series is published here in the US by Vertical Comics, who has released 13 volumes in both print and digital, with volume 14 due out at the end of September. If you haven't checked it out yet, now is the perfect time.