It was recently announced in Shueisha's Bessatsu Margaret magazine that the series, Aozora Yell by Kaume Kawahara, will end in the issue out October 13.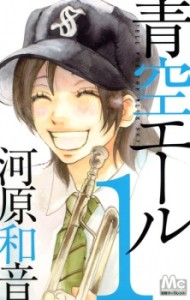 Aozora Yell is about Tsubasa, a girl who, after seeing a brass band play at the finals of the Japanese High School baseball championship decides she wants to join the band when she enters high school. She meets a boy with same with same goal as her, and they strive to reach their goals together.
This series appeals to me on several levels. First, it's about a high school band. We don't have a lot of music based titles here, which, like the lack of cat and craft manga, is a crime IMO. Second, I was in band when I was in high school, and was inspired to join after seeing a performance by an all brass band as well. I even started out playing the trumpet, though it didn't turn out to be for me. I should have gone with the trombone. Third, it features some sports, since the band plays at baseball games, and if I'm going to read a manga with any sports, I want it to be baseball!
The series started in 2008, and there are currently 18 volumes available. I know longer titles are frowned upon by publishers, but this title is by the same creator as My Love Story, a title that is very popular here. Viz Media, It would be great if this could be her second series in English!
And while I'm wishing, her cross-over story of this series with Kimi ni Todoke, "Mayuge no Kakudo wa 45° de", "45° Eyebrows", would be an awesome promo! Just like the cross-over with Nisekoi was for My Love Story!
Viz Media, please make this happen!