Assassination Classroom, the manga by Yusei Matsui and published by Viz Media now has a spinoff manga in Shueisha's Saikyo Jump bimonthly magazine. It started in the November issue out at the beginning of October.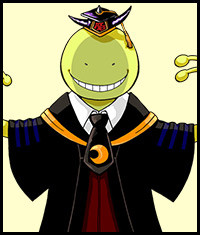 Koro-sensei Q! (Quest) takes the characters from the main series, and puts them into a fantasy RPG setting. Koro-Sensei is now the demon king, and the rest of the cast must try to slay him.  Like most of the other titles in the magazine, the characters will be drawn as SD, making them more kid-friendly. The series will be written and illustrated by Kizuku Watanabe and Jou Aoto.
I love Koro-sensei, and think this is a brilliant idea. Assassination Classroom, while it is a comedy is made for an older audience. This new series will let younger audiences in on the fun without the darker elements of the original. This would be a great title for Viz Media to license.
It's odd that no manga has been licensed from this magazine, despite having so many young-reader-friendly spin-offs of older rated titles. Naruto, One Piece, Dragon Ball, Toriko and now Assassination Classroom all have or have had spin-offs in this magazine. Bringing these titles over would not only start building a reader base for the main series', but may also grow manga readership in general. What publisher wouldn't want that?