On their Twitter feed this last Friday, Seven Seas teased they had more licenses to announce before the end of the year, and threw a bone to fans with their announcement of Monster Musume:  I ♥ Monster Girls Anthology.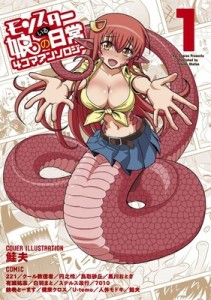 The series is two volumes, and is composed of original four-panel spin-offs by other manga artists based on Okayado's Monster Musume. Among the artists are Shake-O, creator of Nurse Hitomi's Infirmary, also published by Seven Seas, who also provides the cover of the first volume.
The first volume will come out from Seven Seas in May, 2016 with the second volume out two months later in July. Each volume will also include 3 color postcards.
Monster Musume is not a series I would ever read. I don't have a problem with monsters in general, I just don't care for harem stories, and this series is deep in that genre. But I know there are a lot of fans out there that will want to scoop this one up. Four panel manga done right can be really good. It will be interesting to see what else Seven Seas comes up with. It's never a dull moment with their eclectic lineup of titles.