At school, Kyouko Hori is known for being smart, attractive, and popular. On the other hand, her classmate, the boring, gloomy Izumi Miyamura, tends to get painted as a "loser fanboy." But when a liberally pieced and tattooed (not to mention downright gorgeous) Miyamura appears unexpectedly on the doorstep of the secretly plain-Jane homebody Hori, these two similarly dissimilar teenagers discover that there are multiple sides to every story…and person!
Horimiya Volume 1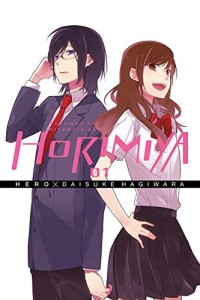 By Hero x Daisuke Hagiwara
Publisher: Yen Press
Age Rating: Teen
Genre: Romance/Comedy
Price: $13.00
I was mildly curious about Horimiya when it was first announced. It didn't strike me as anything exciting, but interesting enough to check out. I don't generally like rom-coms, but Horimiya, with its likable characters and realistic situations, is a definite exception to the rule.
I really liked the leads Hori and Miyamura.  Hori is a practical and down to earth girl. She takes her responsibilities seriously, giving up time after school to spend with friends so she can take care of the house and her little brother Souta. Her parents are gone for days at a time, so It's up to Hori to do it all. She does get wistful when she see other girls having fun, but her responsibilities come first. I was kind of annoyed at first with her not wanting to be seen without makeup, but I will admit it is how some women do feel. Fortunately her moments of worrying about it are few and far between. It was easier to understand Miyamura's concern at being seen with so many piercings, and tattoos. Even Hori finds his 9 piercings to be a bit much. Miyamura is more introverted, giving off a gloomy, loner aura. He can be socially awkward, and even clueless about his actions, but deep down he's a considerate, normal kid.
I enjoyed watching Hori and Miyamura's interactions. Hori is the more assertive of the pair, often speaking her mind. When embarrassed she can get violent, but not outrageously so. Miyamura is more laid back and not prone to thinking things through. He ends up sweating in the summer since he can't wear a dress suit or swim because of his tattoos. They play well off each other, willing to help out the other, though they aren't read to admit they have feelings for each other yet. Their banter is fun and rings true for teens.
Expanding the cast are Tooru Ishikawa and Yuki Yoshikawa. Tooru becomes friends with Miyamura after Hori shoots down his confession to her. He learns about Miyamura's piercings and tattoos, but keeps them a secret as well. Yuki is Hori's friend who spots her with Miyamura in his casual clothes and doesn't recognize him, but she does notice how good-looking he is. Hori tells her he's her cousin, and Yuki starts coming around to see him. They are both fun and add another dimension to their relationships.
The art is typical of a rom-com, but does have a light, airy feel. The characters are very expressive, sometimes over exaggeratedly so, but there is never a need to have to resort to chibis. They would not work in this series. It's the low-key humor that really makes the story appealing.
Horimiya is a light romp through the lives two high school students who seem very different, but who actually make a good couple. Hori and Miyamura are a lot of fun to watch. The situations they get into are true to life, and don't need to be exaggerated to make them amusing. I really enjoyed this first volume and can't wait for the next.
Rating:





Review copy provided by publisher.