Shueisha's V Jump announced in their February issue that the CAPCOM game series Ace Attorney would get a manga adaptation that was scheduled to run in the magazine sometime in 2016.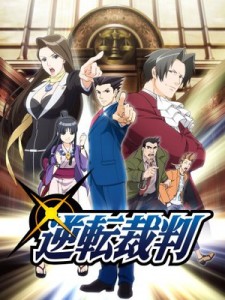 The manga adaptation will be drawn by Naoyuki Kageyama, artist for the Yu-Gi-Oh! GX manga, and would be supervised by CAPCOM. The manga will use the setting of the anime, which is due to start in April 2016. The anime will follow the storyline of the first three Ace Attorney games, Phoenix Wright: Ace Attorney, Phoenix Wright: Ace Attorney – And Justice for All, and Phoenix Wright: Ace Attorney – Trials and Tribulations.
The series follows rookie lawyer as he takes over the offices of Fey and Co., after Mia Fey, the head of the office is killed. He is assisted by Mia's younger sister Maya, who can sometimes channel the spirits of the dead, including her sister. Phoenix Wright takes on cases to defend the innocent, which includes investigation and finding evidence as well as the courtroom drama as the takes on prosecutors former friend and rival Miles Edgeworth, Manfred von Karma and Franziska von Karma.
I'm looking forward to the anime. I've heard a lot about the story from my daughter, and can't wait to see it played out myself. Getting the manga would be even better. Hopefully it will do well enough that Viz will take notice.