Viz Media has started a new series as part of their Jump Start initiative. Kimetsu no Yaiba is the newest series to get the first three chapters published in both the US and Japan.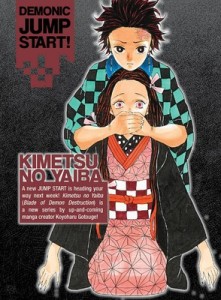 Kimetsu no Yaiba follows Tanjiro, the oldest son of a family that lives in the mountains and that has lost their father. Tanjiro takes his responsibilities as "man of the house" seriously and goes to the nearby village to sell charcoal for extra food for the New Year. While he is gone, his family is attacked by a demon and he finds his sister Nezuko as the only survivor.  She starts to turn into a demon while he tries to get her help, and they are attacked by a Demon Hunter. Tanjiro tries to protect Nezuko despite her becoming a man-eating demon, and surprisingly, Nezuko tries to protect Tanjiro despite her transformation. The pair are spared and given a place to go where Tanjiro might find some hope for his sister.
This series has some things going for it. It's a historical fantasy, so there are lots of characters in period clothing. Tanjiro's special ability is a keen sense of smell that is so honed, he can tell a cat was responsible for breaking a plate. He could also smell the demon's scent, though his concern for Nezuko overrode any concern for following it. He's not a fighter, but he's got some potential that will no doubt be developed as/if the series proceeds. The art is plain with a lot of the characters having very round faces.
As a first chapter, Kimetsu no Yaiba didn't grab me. I though it was okay, but I wasn't moved to go out and get the next chapter immediately. All three chapters are now available in Weekly Shonen Jump. Perhaps a binge read of all three will make it more interesting.