Seven Seas Entertainment has truly embrace social media, as it seems to have become its primary place to announce new licenses, as opposed to the tradition of making announcements at conventions. They did it again, this time on Leap Day, with the announcement of Re:Monster.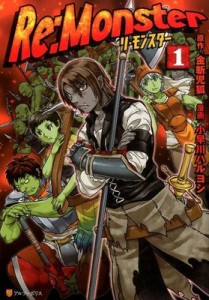 Re:Monster is the adaptation of the light novel series that started serialization online, and has 7 volumes now in print. It is about Tomokui Kanata, who dies an early death, but is reincarnated in an alternate world where he comes back as one of the weakest races; a goblin. Now called Rou, he has  retained the memories of his past life, and is determined to live this new one to the fullest. With new abilities, such as gaining the powers and strengths of the creatures he eats, Rou plows ahead through this alternate fantasy world.
This is the second title with the theme of reincarnation that Seven Seas has licensed. Mushoku Tensei: Jobless Reincarnation has the same basic plot, of a person dying and being reincarnated with the memories of their old life into a fantasy world. Is this becoming a new genre that we'll see more of, like the "trapped in video game world?" Or are these just one-offs? Only time will tell. Of the two though, I think Re:Monster is more appealing to me. Mushoku Tensei hits too high on the male gaze meter for me. Re:Monster sounds like it will have more action which is more interesting to me.