From the Great Ideas Dept: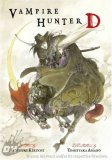 John Thomas over at Mecha Mecha Media takes another look at Light Novels in the US and comes up with a GREAT new name for them:  J-Pulp.  I think this is a perfect name for them!  It describes them exactly as they are meant to be.  Short prose books meant to kill a few hours.  And it's a term book retailers and publishers can
understand.  They aren't meant to be high literature, nor shoved into the foreign books section (is that really a category in bookstores?)  It's all about the genre.  Get the light novels with the other novels they fit into best; Ghost in the Shell and Vampire Hunter D in the Sci Fi/Fantasy section.  Then at the end of the novel, mention that the manga series is available for more stories, etc.  If you're not going to tell anyone about these book except the people who already know about them (don't get me started on the incestuous relationship manga and anime keep cultivating), then at least get them into places where non-manga fans might stumble on them and decide to find out more.