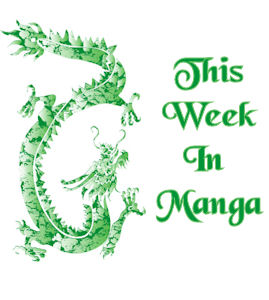 Reprint-a-thon
Tokyopop, after serious reduction in their catalog, has been slowly building it back up.  Part of that build up is a reprinting of older titles that had become scarce, and difficult for fans to get a hold of.    Now, fans no longer have to hunt high and low, go to trading sites or bid up to ungodly prices to get volumes of their favorite series' as they reappear back in print.  I'm of two minds about manga as a collectible.  While I understand that demand can set the market price, is there really such a demand for titles to justify prices up in the $100s?  Or is that just greed?  As much as I enjoy my manga, it's not enough to ever justify that kind of pricing, so kudos to Tokyopop for thinking of the fans and making these books available again.
Bento Comics To Go
A bunch of former Tokyopop creators and employees have gotten together and created a really interesting website.  Bento Comics is a place where you can read comics online from creators like Queenie Chan and Svetlana Chmakova.  Then, if you want to keep the stories, you can choose your favorites and create your own anthology in print on demand, to be mailed to you.  I think this is a great idea, as it lets people choose their favorites and not be tied down by some editors choices that may include some, but not all titles they would enjoy.  I think the a la carte model is the way to go with web comics, and I hope they can get more artists to join in and put their stories up.  I've really come to love the idea of anthologies, and getting to make your own just plain sounds fun.
Fooled You!
Thursday was April Fools Day, and there were plenty of fake news stories all over the web, trying their darnest to fool readers into believing their stories were true.  But the best I saw, and the most clever and original was from Kuriousity.com.  Lissa Pattillo, owner of the site, posted a review of a new title called Kuriousity, the story of one manga fan's attempt to run a manga review site.  It's really well done, and if it was made into an actual title, I would pick it up!  There's even a book cover, that looks a lot like a Tokyopop cover, that would fool anyone at first glance.  Definitely check this one out.  Maybe we should see if we could get this to be a series and get it on Bento Comics.
Cons aplenty!
Con season is really starting to gear up, with two cons starting this weekend, both manga related.  On the West Coast is Wondercon, run by the same people as do San Diego Comic Con.  It's more comics focused and much smaller than SDCC.  Manga Publishers Viz and CMX will be in attendance as well as several of the manga press , including Deb Aoki of manga.about.com and Kate Dacey of mangacritic.com.  Watch there websites for highlights and their twitter feeds for updates.
Over on the East Coast is Anime Boston.  Although it's an anime con, manga is well represented with several manga panels, and well represented by the east manga community including Brigid Alverson of Manga Blog, Melinda Beasi of Manga Bookshelf, and Sam Kusek and Ken Haley of Manga Recon.  Vertical is the only manga publisher in attendance, but with Ed Chavez running that panel as well as some general manga panels, it would prove to be a good show all around.  Check their sites and twitter feeds for updates and highlights as well.
NYT Best Seller List
Twilight once again rules the Hardback graphic novel list, which is no surprise, but the manga list this week does have some in store!  Tokyopop rules the roost with Warriors: Clan In Need taking the #1 spot.  Del Rey returns with xxxHolic vol 15 which jumps in at #2.  Last week's #1 and #2, Naruto vol 47 and Bleach vol 30 are now #3 and #4.  Vampire Knight vol 10 falls back one to #5, and another new entry from Del Rey, Fairy Tail vol 10 comes in at #6.  Black Butler vol 1 takes a real dive, falling 4 spots to #7, but Yen Press gets a boost with new entry Melancholy of Suzumiya Haruhi vol 5 at #8 while Soul Eater vol 2 also falls four to #9.  Tokyopop's Alice in the Country of Hearts vol 2 also falls four to hold on at #10.  Del Rey's return to the top 10 keeps Viz from returning to dominance this week with the publisher count coming out at Viz – 3, Yen Press – 3, Del Rey – 2 and Tokyopop – 2.  If only the list could keep this variety.
Manga For Your Ears
Manga Out Loud
Spiraken Manga Review
This Week at Manga Village
What I'm Reading
Twilight: The Graphic Novel vol 1