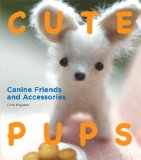 Cute Pups: Canine Friends and Accessories

By Chie Hayano
Publisher: Vertical Inc.
Age Rating: All Ages
Genre: Craft
Price: $14.95
Rating:





Even…More…Puppies!!!  It's like "The Littlest Pet Shop" for adults!

Even though by nature I'm a cat person, I can't resist a puppy.  They are just so cute and cuddly!  Vertical must know how irresistable puppies are, as they release their second craft book of little dog making: Cute Pups.