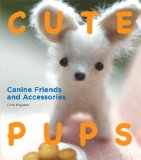 Cute Pups: Canine Friends and Accessories

By Chie Hayano
Publisher: Vertical Inc.
Age Rating: All Ages
Genre: Craft
Price: $14.95
Rating:





Even…More…Puppies!!!  It's like "The Littlest Pet Shop" for adults!

Even though by nature I'm a cat person, I can't resist a puppy.  They are just so cute and cuddly!  Vertical must know how irresistable puppies are, as they release their second craft book of little dog making: Cute Pups.
This new book adds 12 more new breeds to the list of puppies you can create, and most are fairly well known.  Toy Poodles, Border Collie, Dalmation, Yorkshire Terrier, Bulldog, and two Japanese breeds, the Shiba Inu and the Japanese Spitz.  But while this book has 4 less dogs than the previous one, it adds something else that is a must have for all pet oweners: accessories!  Now you can give your precious pooch a matching collar and leash, a bed, pillow, bones, clothes, toys and even a bowl and carrier!  Everything a puppy could want is now included.
There are some changes to this book over the first one, and all are for the better.  The entire back section of the book, with the instructions and material guide is now in color.  In the first book this was all black and white.  The color pictures of the materials needed will make it easier to match up and find when shopping.  And the completed color picture with the instructions for making the pup will make it easier to see how it goes together.  It still includes a stitching guide and lots of great pointers on making the dogs and fixing some issues that can come up.
The first half of the book is again filled with pictures of the stuffed dogs and their personality quirks.  There are also lots of pictures of the new accessories, set up in a store like setting.  There are also some cute strips with the dogs to add to the fun.  Ms. Hayano adds  a personal touch with a few diary entries about how she got started making stuffed animals and what goes into the photo shoots.
This is another great craft book from Vertical, though it's come out a little too soon after the first book.  I haven't had a chance to to try any of the pups from the first book, and now I have even more pooches to choose from!  At least they'll be well dressed now.  If you can use a needle and thread and/or are a dog lover, definitely check this book out.
I'm still waiting for a Cute Kitties/Kittens book.
Review  copy provided by publisher.