Vertical joined the licensing mania from last week when they announced two new titles at their panel at Katsucon. In Vertical's typical style, they are not your average manga, but fit perfectly into the catalog they've been building for the last couple of years.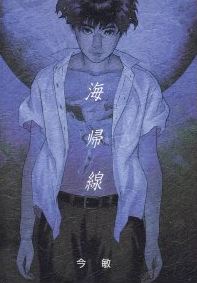 Kaikisen, also known as Tropic of the Sea is by re-known anime director Satoshi Kon, who passed away in 2010. Kaikisen was Kon's first manga. In a seaside town there is a legend of a "sea people" who exist nearby. The townspeople made a promise to these legendary people, but resort developers now threaten to force the town to break their promise. This title is just one volume long and is scheduled to come out in September. Several of Kon's anime have been released in the US, but this is his first manga. I'm intrigued by the premise of this title, so it's getting a "can't wait!"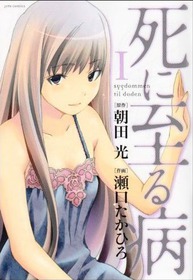 Sickness Unto Death is a two-volume series by the creative team Hikari Asada, writer, and Takahiro Seguchi. It is about a young man, Kazuma, who has come to room at a mansion as he attends school, where he is studying clinical psychology. Also living in the mansion is a woman, Emiru, who suffered from deep despair, and is killing her slowly. Kazuma tries to learn the reason for Emiru's despair before it is too late. The first volume of this title will come out in October. This is another title that sounds fascinating. It gets a "can't wait" too!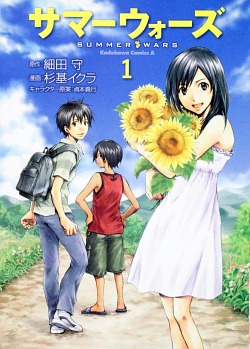 While not announced, Vertical also confirmed back at the end of January to also have received the license for the 3 volume manga adaptation of Summer Wars, by Iqura Sugimoto. Eleventh-grader and math genius Kenji Koiso is asked by Natsuki Junnouchi to join her at her family's home for a summer job. Having a secret crush on Natsuki, the shy Kenji agrees. He comes to find out his job is to pretend to be her fiancée for her family at their celebration for the matriarch's 90th birthday. While Kenji is running around trying to keep up with Natsuki and her story, he receives a text with a math problem. But his solving it causes a hijacking of the social network through which most of the world's social and business traffic flows. The movie was very popular not long again, so this adaption, which Vertical will release in 2 300 page volumes in October, should be as well. I'll definitely give the first volume a try, and give it a "can't wait!"