Yukari Hayasaka is a studious, straight-laced high school senior, racing toward college exams yet with no real sense of purpose in her life. One day she's kidnapped by a troupe of fashion design students and whisked away to their lounge-like atelier. There they ask her to be their model for their school fashion show. At first she resists, scornful of the odd-looking design students, until George, the lead designer, uses his wiles to join them while forcing Yukari to take a good, hard look at her life.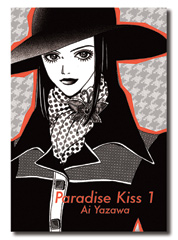 By Ai Yazawa
Publisher: Vertical, Inc.
Age Rating: Older Teen
Genre: Fashion
Price: $19.95
Rating:





I first read Paradise Kiss two years ago for its Manga Movable Feast. The series was originally released by Tokyopop, who has since gone the way of the Dodo, and at the time I could only get a hold of the first volume. But Vertical, Inc. has, in its infinite wisdom, rescued this title and re-released it not only with a new translation, but also as an omnibus edition. With a much better translation and bigger chucks of story, these two volumes really delve into the characters and starts to give glimpses of the fashion world.
In these first two volumes, we not only meet all of the characters of Paradise Kiss, but see the complex relationships that Yazawa has set up. Miwako and Arashi are childhood friends who have become lovers. Arashi has piercings all over his face and looks scary, but is actually kind and the most responsible of the group. Miwako is very childlike and refers to herself in the third person. She becomes Yukari's first close friend that she can confide into. Isabelle is a male transvestite who likes to cook and worries about Yukari as well, but doesn't push too much. She really doesn't get as much development as the others. And then there's George, or Jorji. He is the leader of the group and prodigy designer. He is suave, handsome, and at times real jerk.
Yukari gets dragged into their world as her college exams approach. She doesn't take their request for her to be their model, or even their work seriously at first. But when she learns about how hard they are working to make their dreams of creating their own label of clothes, she has more respect for them. They have a dream, a goal for their lives. She's just been going through the motions, trying to appease her rank-hungry mother. Being with Parakiss and George, gets Yukari thinking about her life and her future, and what she wants to do with it rather than just what her mother wants. She also becomes romantically involved with George, who is a complex person. Yukari's emotions get bounced around like a pinball as he manipulates her feelings leaving both the reader and Yukari wondering if his feelings for her are real.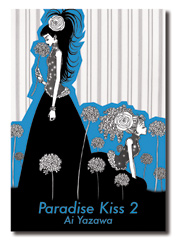 There is a third side to the Yukari-George relationship. Hiro Tokumori is a class mate of Yukari's who also, co-incidentally is a childhood friend of Miwako and Arashi. He starts out as Yukari's crush, and seemingly not interested in her, but as she gets more involved with Parakiss and George and less involved in school, he starts to worry about her. Hiro is the complete opposite of George. He is never manipulative of Yukari, but he does speak his mind, and his words get Yukari thinking rather than just reacting. As he becomes more involved in the story, I found I was liking him more and more. He's a better match for Yukari than George. He is understanding her feelings without the manipulation.
I really enjoyed these first two volumes of Paradise Kiss. It was great watching Yukari start to grow as a person, and face some of the things she's been avoiding. She finally finds something she wants to do, modeling, thanks to Miwako's sister, Mikako, who is already a famous fashion designer. She confronts her mother about her life's direction, and finally wins some freedom. She even learns that, once it is her own choice, college might not be as bad she thought. But she is still growing up in other ways, especially emotionally. She makes George angry at her over a choice she made that was more about her inexperience than anything else.
If you missed Paradise Kiss the first time around, don't make that mistake again. Vertical has done a terrific job with this re-release. The volumes are larger than a regular manga volume, and just thick enough to give good chunks of story, and still be comfortable to hold. And you won't want to put these volumes down. The story is very addicting, as you have to know what happens next. It was very difficult to reach the end of volume 2 and realize I had to wait for the next. Ai Yazawa's artwork is realistic with a few comedic moments, which mostly involve Arashi punching George. The series is also rather self-aware, at least among the Parakiss crew, as George and Isabelle are seen reading the magazine the series was serialized in, and are constantly making references to events being in previous chapters. Paradise Kiss is a fun, funny, and sometimes frustrating series, but it is worth every moment.
Review copies provided by publisher.