Like most teens at Central City  Middle School, Joey Jones is in desperate need of a hero. But the hero of his desire isn't someone in tights, instead it's the latest technological fad, a remote-controlled bot called The Heybo. Without much in terms of savings, Joey's little hero seems out of reach, but in a twist of fate not only does he come to possess one of these machines, his new Heroman comes to life to help him save the Earth from alien invasion!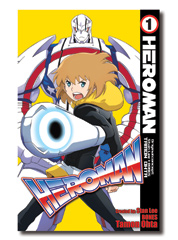 Created by Stan Lee + BONES; Adapted by Tamon Ohta
Publisher: Vertical, Inc.
Age Rating: Teen
Genre: Action
Price: $10.95
Rating:





I wasn't impressed with Stan Lee's first collaboration with a Japanese artist, Ultim0, so I didn't hold out a lot of hope for Heroman. For most of this volume, my low expectations were met. But once the story started to incorporate more Japanese hero elements, it started to pique my interest.
The protagonist of Heroman is typical of most Stan Lee protagonists. Joey is poor, and living with his grandmother, since both of his parents are gone. He has to work a part-time job as well as go to school to help supplement the household income. He has no self-confidence and only a few friends; Cy, who needs crutches to walk, and Lina, a girl from a well-to-do family who likes Joey, but whose brother hates Joey because he's poor, and picks on him because of it.
This is the main part of the title that I disliked so much. Joey and most his friends are so two-dimensional. I didn't feel any life or motivation from from any of them. Lina is so much the damsel-in-distress that it was annoying, and her brother Will's obsession with her borders on disturbing. Only Cy doesn't seem to fit the "sidekick" bill. He is more self-confident than Joey, and while he does encourage him, it's never from the position of an inferior. Cy almost comes off as he should be the hero, and Joey his sidekick. But if that were true, it wouldn't be interesting, as it's the struggle to become a hero that makes books like this appealing. And as is typical of all Stan Lee related projects, there's a character that looks just like him. He is a customer in the coffee shop that Joey works at. I think he must have stipulation in any contract he signs that his likeness has to be included.
I actually started to like Heroman more when Joey started acting more like the protagonist from a super sentai than an American super hero. When Joey realizes that he's made himself a target because of H.M.'s strength, he doesn't embrace that strength. He tried to distance himself, and pretend that it's not his problem. It will all go away if he just isn't near H.M. Of course, things don't work out that way. The aliens are determined to defeat H.M. and come after him and Joey. It's only when Joey accepts his role to fight with H.M. that he not only gains confidence, but also a new power for H.M. This is a very Japanese superhero trope. The structure of the alien invaders, the Skrugg, is very reminiscent of sentai villains, with underlings based on everyday objects (insects) swearing allegiance to the boss, and trying to defeat the heroes. Hero Man himself, reminds me of the giant robots of the sixties, specifically, Jonny Sokko and Giant Robot. The robot never spoke, like Hero Man, but you could still feel the connection between them. Jonny would also risk his life for Giant Robot, and Joey starts to do the same for H.M.
While I felt a lot of this volume of Heroman left a lot to be desired, there is still some potential that could turn this title around. Serious fans of super heroes and/or super sentai probably won't like the fusion of the two genres, but casual fans of either would probably find something of interest. I'd like to read the next volume to see if this fusion of east and west can live up to the potential I see, or if it's like Ultimo, potential wasted.
Review copy provided by publisher.