Before the fall, and before the trials of "the Titan's son" Kyklo, a young smith by the name of Angel Aaltonen grapples with the giants as only a craftsman could… 
Attack on Titan Before the Fall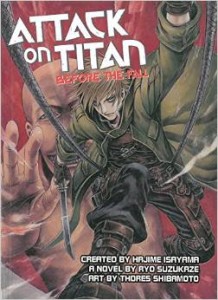 Created by Hajime Isayama; Written by Ryo Suzukaze; Art by Thores Shibamoto
Publisher: Veritical, Inc.
Age Rating: Older Teen
Genre: Light Novel/Horror
Price: $10.95
Rating:





I'm usually hesitant about reading spin-off material of a series that doesn't involve the characters that made me enjoy a series, but Attack on Titan is different. The world that Isayama created is so big and full of questions that spin-offs and prequels are a must for fans craving more. This novel is one of those must haves. It tells the tale of the creation of the 3-D maneuvering gear used by the Survey Corps, at a time when they were little more than "meals on wheels" to the Titans.
Angel Aaltonen is a craftsman living in Shinganshina District. He has two childhood friends, Maria Carlstedt who is in the Garrison and guards the gate of Wall Maria, and Solm, who is in the Survey Corps. Angel works in a workshop that contracts with the military to make weapons to defend the walls from the Titans, giant creatures that by all appearances are unkillable. Angel wants to create weapons to help the Survey Corps and his friend survive their encounters with the Titans, and maybe even find a way to kill them. Given the new materials Iron Bamboo and Iceburst stone, Angel begins developing an idea, but in order to really find its practical applications, he needs to go on an expedition with the Survey Corps, go beyond the walls and face the greatest terror known to Man.
I really liked Angel. He was passionate about both his work and his beliefs that humans should be trying to find a way to defeat the Titans instead of hiding away behind the walls. His motivations run deeper that just freeing humanity. He wants to help his friend Solm, and protect him the only way he knows how; by giving him the tools to kill Titans. His determination is so great that even after seeing a Titan in action, and how unstoppable they are, he still wants to go on an expedition with the Survey Corps, despite the paralyzing fear the Titans inspire in him. He is a man of conviction, who never stops trying, even when it may cost him his life.
I enjoyed watching Angel's journey to create new, effective equipment for the Survey Corps. He grows with every obstacle to overcome, and there are plenty. Opposition to the government nearly impedes his trip to the Factory City where they learn of the Iceburst stone and first process the iron bamboo. Forces within the government are also pressuring to end the Survey Corps expeditions. When it's impossible to kill a Titan, why bother? Despite all this, Angel continues to press on, and finds plenty of help along the way from fellow craftsman Xenophon and his assistant Corina. Solm and Maria are his moral support and part of his motivation to keep trying. It is thanks to his perseverance that the Survey Corps not only get their maneuvering equipment, but also find the Titan's one weak spot, thus preserving hope for humanity.
There were plenty of good scenes in this volume. Having already read the first volume of the manga for the second part, it was neat to see the Titan attack on Shinganshina from another perspective. Watching Angel start to work out the concept of the Equipment was interesting. Angel's first attempt using the Equipment was funny, though it quickly became serious as he tried to work how the Survey Corps would use it. As part of the Attack on Titan Universe, Before the Fall is also filled with plenty of gory scenes. Titans shoot half-digested heads over the wall of fallen Survey Corps members. People are flattened to pulps of meat, and brains, guts and body parts are strewed everywhere. While these scenes tend to be few and far between, they still leave an impact. Reader discretion is advised.
Fortunately, the illustrations for this volume chose not to portray any of these scenes. Instead we get illustrations of Angel, some with Solm, Maria and even Xenophon. There isn't one with a Titan, which I am just fine with. Angel's visage is much more pleasant to look at. Shibamoto's art is well done while still feeling like it belongs in the Titan Universe. The adaptation is smooth and reads well in English, but that's a given with Vertical titles.
I wish this first part of Attack on Titan Before the Fall had gotten a manga adaptation like the other two volumes in the series. Angel's journey is filled with just as much excitement, action, and danger, and really deserved the same treatment. It makes me doubly glad that Vertical gave us this volume so we can at least read it. If you love Attack on Titan, you owe it to yourself to pick up this volume. It's an important moment in the world's history, and one that should not be passed up.