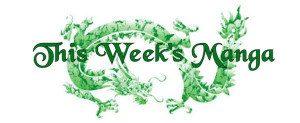 This week has some interesting titles coming out, as well as ending. Kodansha has just one title; Noragami: Stray God Vol. 1. This title was announced to some excitement last year, as it also has an anime that was streamed on Funimation, giving it name recognition that may help move the volume. We'll have to see if it makes to the NYT bestseller list next week.
Vertical Inc., releases the 4th volume in their foodie series, What Did You Eat Yesterday? Seriously, if you're not reading this series, why not?! It has something for everyone, foodie or not, and Vertical always puts out great editions.
Viz Media says good-bye to two of its titles. Midnight Secretary, the josei-as-shojo ends this week with Vol. 7. I did enjoy the first two volumes with caveats, but am still interested in reading more. It's on the to-read list. Dawn of the Arcana, a true shojo also ends it's run with Vol. 13. I have the first two volumes that have been languishing in my to-be-reviewed pile for a while now. Maybe this is a good time to pick them up and finally check them out. Finally, Time Killers by Kazue Kato comes out. It is a series of short stories by the creator of Blue Exorcist, another series I should read the first volume of some day.