Apollo's Song follows the tragic journey of Shogo, a young man whose abusive childhood has instilled in him a loathing for love so profound he finds himself compelled to acts of violence when he is witness to any act of intimacy or affection whether by human or beast. His hate is such that the gods intervene, cursing Shogo to experience love throughout the ages ultimately to have it ripped from his heart every time. From the Nazi atrocities of World War II to a dystopian future of human cloning, Shogo loses his heart, in so doing, healing the psychological scars of his childhood hatred.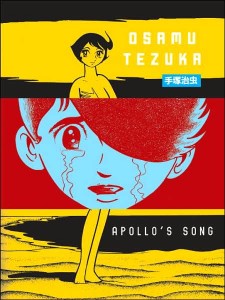 By Osamu Tezuka
Publisher: Vertical, inc.
Age Rating: Older Teen
Genre: Drama
Price: $10.95/part
Rating:





I first read Apollo's Song 2 years ago, but could never get my thoughts about it to coalesce enough about it to get a review done. I decided to try again with the latest MMF. And again, I was at a loss for what to say. The story didn't really speak to me, and some parts repulsed me. I had to give it a lot of thought to really come up with the reason why.
It really all came down to what the essence of this story is. It's a tragedy. Anyone looking for some kind of happy ending here need not apply. In fact, I wouldn't just call this story a tragedy, but it's a tragedy's tragedy. Because when you think it might not be so dark an ending after all, that little ray of hope is snatched from your fingers and trounced to death in front of you. Can you tell I'm not big on tragedies? It's not that I don't like them. I enjoyed the Sophocles tragedies, and with this title so strongly influenced by Greek myth, you'd think I'd enjoy it too. But I just couldn't connect to it.
Apollo's Song is composed of four stories essentially. Each lets Shogo experience a different kind of love. The first is about love at first sight with Shogo as a Nazi falling for a Jewish girl. The second is love that grows as Shogo and Naomi gradually fall in love despite their social differences. The third story shows the power of love, as Queen Sigma, a synthetic human who learns to love Shogo and then kills herself after he dies. The fourth story is the overarching plot in which Shogo experiences the other stories through dreams and hypnosis. By the end of this story, Shogo seems to be cured as he has fallen in love with Hiromi, the woman who has been secretly trying to heal him. Of course, this story couldn't end well either.
Each of the stories make well-conceived, well written vignettes. I liked each of the stories when looked at by themselves. It's when I look at the volume as a whole that I start to have problems. When I got to the end, I was left wondering, "What was the point?" My biggest problem with this title was all the killing of animals. I am a big animal lover, and can't even watch the nature specials that show animals just struggling to survive. So seeing animals killed for showing affection really disturbed me. On this second reading, I skipped  over those pages. Knowing the scenes were coming didn't help me get past them. I understand the scenes were necessary for Shogo's story, but it was just too disturbing for me.
The ending was so pessimistic. To me, Tezuka is saying there is no happiness to be found in love. It will aways end tragically, and humanity has no choice but to keep going through the vicious cycle of love, loss and death. There is no joy in love, and no hope for humanity to escape. I also don't get the whole beginning and ending with the anthropomorphized sperm and egg. Is Tezuka trying to imply that love is biologically driven? The opening scene at the beginning is an interesting way to show how children are conceived, but it didn't have any relation to the rest of the book. Apollo's Song is about the concept of love, not its biological byproduct. Children can be conceived without love, so I didn't see the point of opening the book like that, and then revisiting it at the end.
Even though I don't agree with the themes of Apollo's Song, Tezuka's ability to convey them can not be debated. One scene that particularly stands out to me is in the second story, "No Man's Land". While Shogo is exploring the island, the animals keep him out of one area. He finally convinces them to let him in. What he finds is a clearing where the animals of the island mate. Shogo feels uncomfortable watching and leaves. In that scene, Tezuka does an admirable job of conveying the reverence that is felt for that clearing. I felt just as uncomfortable as Shogo.
Apollo's Song is not a title for everyone. It definitely falls into Tezuka's dark side, though not in the way as MW or Book of Human Insects. In those stories, the good guys are just outsmarted by the bad guys. In Apollo's Song, Shogo never had a chance in the first place. I would recommend this title but only to those interested in tragedy and all its forms, or die-hard fans of Tezuka. Apollo's Song is a title worth reading, It's just not something I would want to read again.