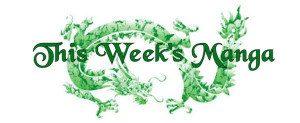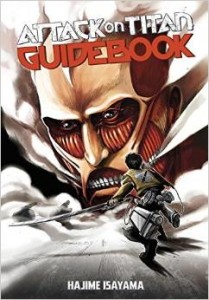 Wow. I thought I was stretching it last week. This week there is hardly any manga being released. Kodansha and Viz Media are about the only companies with anything coming out, and barely any at that. So let's spotlight some related-but-not-manga titles.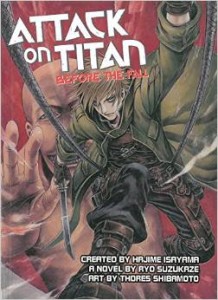 Kodansha releases the first to 2 books about Attack on Titan. Attack on Titan Guidebook: Inside and Outside is a look behind the scenes of the manga and anime. At nearly 400 pages, it features interviews with creator Hajime Isayama, his editor and staff of the anime adaptation, concept art from both the manga and anime, and an exhaustive guide to the characters and world of Attack on Titan. There is even a papercraft kit to make your own Colossal Titan head! This is a must for any Attack on Titan fan.
Vertical, Inc. isn't just a manga publisher. They also print novels, so it's of no surprise that their leap onto the Attack on Titan bandwagon was to get the light novel series, Attack on Titan Before the Fall. This first novel is a prequel not only to the Attack on Titan series, but also to the manga of the same name as well. This first novel focuses on a blacksmith named Angel who helps to fight the Titans the only way he know how. If you're hungry for new Titan material that also expands the world more, this is the title for you.