On her sixteenth birthday, orphan Himari Momochi inherits her ancestral estate that she's never seen. Momochi House exists on the barrier between the human and spiritual realms, and Himari is meant to act as guardian between the two worlds. But on the day she moves in, she finds three handsome squatters already living in the house and one seems to have already taken over her role!
Demon Prince of Momochi House Volume 1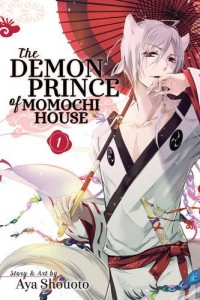 By Aya Shouoto
Publisher: Viz Media
Age Rating: Teen
Genre: Supernatural/Romance
Price: $9.99
I was really looking forward to reading the first volume of Demon Prince of Momochi House, and was lucky enough to get a friend to pick it up for me as SDCC (along with one of Viz's con bags). I read it the same night it arrived, but it wasn't what I was expecting. I was let down by the stale characters and a story that didn't seem to go anywhere.