As Paperboy starts to issue video warnings of crimes they plan to commit against ever-larger targets of internet outrage, Lieutenant Yoshino and the Anti Cyber Crimes Division attempts to get on step ahead of the newspaper-masked terror group. But even as they contend with the authorities, the greatest threat to Paperboy's master plan may come from a totally unexpected place–within…
Prophecy Volume 2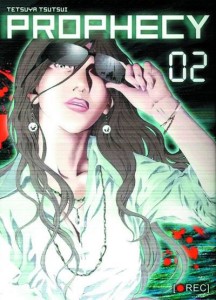 By Tetsuya Tsutsui
Publisher: Vertical Comics
Age Rating: Older Teen
Genre: Thriller
Price: $12.95
Rating:





I really enjoyed the first volume of Prophecy and found it hard not to want to cheer on Paperboy over the ACCD who were trying to catch them. It seems they are always one step ahead of the police as they play a long game where the goal is still unknown, and they continue their mast manipulation of social media to reach it.
Once again, I am finding myself sympathizing with the antagonists of this series, Paperboy. They take on an environmentalist group called "The Sea Guardians", who target Japanese fishing boats in the name of the environment, but are made up of some really slimy people. Like the "justice" they administered in volume 1, Paperboy's vigilantism feels wholly appropriate and well deserved. But this act, along with their previous acts, are just more social engineering. Their huge success with "The Sea Guardians" creates copycats that then creates a backlash against an open internet. But the question remains, to what end?
"Gates", the leader of Paperboy, shows himself to be a master strategist as well as programmer. He has been planning this for three years, and while he couldn't predict the details, he has predicted what certain people would do and how they would react to their incidents. This leads up to the surprising announcement at the end of the volume. While I have no doubt "Gates" would do it, I'm still left wondering what their endgame is, because I can't believe it is that.
Trouble is stirring in the ranks of Paperboy as one of their members, "Nobita", starts to have second thoughts and essentially wants out of the plan. Some of this background is shown as is what he's been going recently, that seems to be fueling his change of heart. He makes his move at the end as well.
ACCD continues to try to piece Paperboy together. Yoshino tries to resign when who she thinks is the wrong Paperboy is caught in her sting. Ichikawa has the completely wrong read of Paperboy, making him dismissive of them. It's Okamoto, the non-techie, who starts to see behind the social media flash, and that Paperboy's motives are not all about notoriety. He also has dogs at home that he cares for, so that up his estimation with me. It would be even higher if they were cats.
Prophecy Volume 2 is a good middle volume that pushing both plot and character forward while retaining the hook that makes volume 3 a must have. Paperboy seems to have legitimately good reasons for doing what they are doing, but it is the endgame that will show if the end actually justifies the means. "Gates" seems certain. "Nobita" does not. I'll just have to wait to see who is right. Prophecy continues to be a great thriller and a must read.
Review copy provided by publisher.