A newspaper-masked vigilante who broadcasts his acts of vengeance before committing them. A newly formed police division tackling the new frontier of internet-based crime. As the sun rises on the Era of Information, can a group of people who found themselves at the bottom of the food chain rattle society through the web and avenge a fallen friend?
Prophecy Volume 1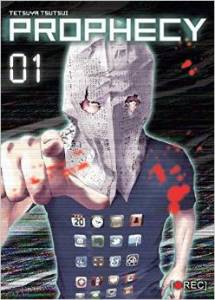 By Tetsuya Tsutsui
Publisher: Vertical Comics
Age Rating: Older Teen
Genre: Thriller
Price: $12.95
Rating:





For anyone who has spent any time on social media, Prophecy will feel like a story ripped from the headlines. Anonymous threats coming from websites that have the police stumped and running in circles trying to find the perpetrators. This first volume sets up the cat and mouse game between Paperboy, an online presence that makes threats and carries them out and the newly formed Anti-Cyber Crimes Division, a unit of the Tokyo Metro Police Department who are trying to stop him.
The story starts like a police procedural with the crimes being discovered and the ACCD starting to investigate. The ACCD is a three person unit led by Lieutenant Erika Yoshino. She is hard-nosed, no-nonsense, and borderline vindictive toward the accused, almost as if the crimes were committed against her personally. She doesn't pull any punches which can lead to conflicting feelings about her, but she is smart and capable, and is quick to pick up that Paperboy is more than he seems. Her two subordinates, Daiki Okamoto and Manabu Ichikawa have varying degrees of experience with the internet, allowing them to fill different roles in the unit. Daiki was kind of cute with his newbie questions about flame wars and why people get into them. They are the good guys, the protagonists meant to stop Paperboy.
The antagonist, Paperboy, comes off at first like a cyber vigilante, taking on people who have committed some sort of crime as he sees it and administers the seemingly appropriate "justice". He isn't taken seriously at first, but as his "sentences" escalate, his popularity grows. At first, it's easy to write him off, but after he does a live cast that speaks to a lot of people, his approval rating starts to go up as well. Paperboy isn't committing these crimes for the notoriety, but from a sense of justice that stems from a society and system that has failed a class of people called the "atypical employed"; contract workers, temps, and part-timers. After seeing his origin, it's hard not to want to root for him.
This is what really makes this series fascinating. It's easy to see the ACCD as the heroes at first when the issues are black and white. But Paperboy represents a veiled part of society, those without power or a voice to speak with, the poor, the 99%. While his actions are extreme, they are also things a lot of people have thought should happen, such as a rape apologist getting a taste of his own medicine. It isn't just individuals he takes on, but companies as well, who instead of being accountable for their mistakes trying to shift blame. He is fighting for all the people who think there is nothing they can do, much like the Occupy movement tried to do a few years ago, so it's morally gray issue.
Paperboy's origin is tragic, so it's hard not to sympathize with him. I was mildly sympathetic to him at first, but after  seeing how he started, I was ready to cheer him on. Tsutsui's writing and character development played a lot into getting the reader to this play. The art is realistic, and a little gritty, adding to both the story's and character's realism. It's use of online social media such are Twitter and You(r)tube only adds to its genuine feeling. It's that authenticity that really draws you in.
Prophecy is off to a fantastic start and a serious read. It is only three volumes, so it's not a big investment. If you have any interest in social media networks and how they affect our lives today, pick this title up. It really does seem prophetic with the way social media is being used as a weapon against people and groups by others with a "twisted" sense of justice. This story is too good to pass up. Vertical Comics has done it again with absolute must read.