The truth behind the tragedy of Sablier, and the identities of Jack Vessalius, Glen Baskerville, Oz, and Alice are all finally revealed in these 9 volumes. But the path to these truths is filled with twists and turns, and danger hides around every corner where friends become foes, allies fall, and hope seems completely lost at times.
Pandora Hearts Volume 12-20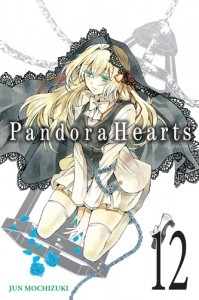 By Jun Mochizuki
Publisher: Yen Press
Age Rating: Older Teen
Genre: Fantasy
Price: $13.00
Rating:





Reading these nine volumes of Pandora Hearts was a lot like eating potato chips; you can't read just one. I had let this series pile up, which in retrospect was probably a good thing. I ended up binge reading these volumes. So much was revealed in each volume, that I had to keep going. Things start with the calm before the storm; a tea party for Oz and his friends, and Oz's society debut at the mysterious Isla Yura's residence in a neighboring state. Things pretty much go down hill from there, rolling like a snowball, growing in size and showing no sign of stopping.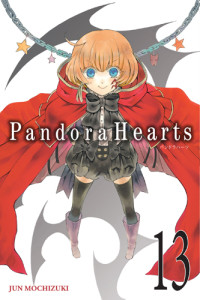 I loved all of the revelations that were made in these volumes. The truth of so many things is finally uncovered when Oz is able to see Jack's memories. It all starts when Jack first meets Lacie as a young homeless boy. She gives him the encouragement he needs make something of himself, but he becomes obsessed with her, and that starts Jack down the path of destruction that leads straight to the Tragedy of Sablier. The memories also show the truth about the Baskervilles and their connection to the Abyss, as well as the origins of the B-Rabbit chain, and how Alice really died. Gilbert and Alice both gets their memories back as well, filling in a few more pieces. Finally seeing the whole picture of what lead of the tragedy of Sablier was the highlight of these volumes. Having only seen fragments so far, it was fascinating to finally see everything in order, as well as the twisted logic that led to it.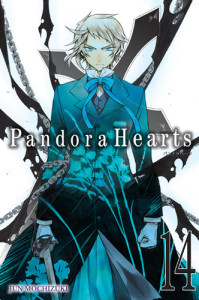 As I read these volumes, I started wondering if Mochizuki was a fan of either Joss Whedon or George R.R. Martin, with the way characters, some I really liked, were being taken out. Yes, people die in these volumes. Some death are only of personality, others are mortally wounded. Some aren't any real big loss, like Yura. Others fall to the mysterious head hunter. A few make you go "Noooo!!!" at their passing. The first big "no" moment is very well-built up. A second has had the previous 19 volumes that not only drives the knife in, but it twists it hard.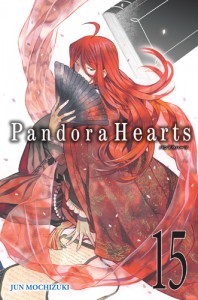 The truth about Jack turns the world upside for a lot of people, with some who were one considered allies becoming foes, and Pandora turning on Oz/Jack. But while supposed allies turn, the true power of these volumes is in showing how important it is to connect with people. Every important choice made by many of the characters ends up being based on the importance of the others to them. Elliot is able to do what he must because of Leo. Oscar helps Oz because Oz, Gil, and Ada all saved him from his grief. Gil is able to reject his past role and embrace his new life because of Oz. Oz is able to accept who and what he is and choose to live because Elliot, Leo, Gil, Ada, Oscar and Alice all accepted him. It also give Oz the power to resist Jack, and maybe even defeat him.
These nine volumes of Pandora Hearts were a thrilling, gripping, heart wrenching ride. So many things make sense now, with most of the pieces of the puzzle put together, forming the true picture, but there is still more to learn. The Abyss and it's center, The Intention are pieces yet to be fit in, and they are the most fascinating parts. The endgame is so close now, with only two volumes left to round things up. I will definitely be there to see the last pieces put into place.
Review copies provided by publisher.