Once a loner, Hikari "Picasso" Hamura has helped so many people that he finds himself surrounded by friends! Picasso's going to need them as he faces his most difficult "portrait" yet. It's easy to deal with other people's problems. But it's another story when you have to face your own…
Genkaku Picasso Volume 2-3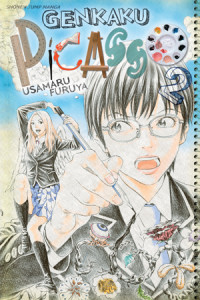 By Usamaru Furuya
Publisher: Viz Media
Age Rating: Older Teen
Genre: Supernatural/Mystery
Price: $9.99
Rating:





Back when I read volume 1 of Genkaku Picasso for the Usamaru Furuya Movable Manga Feast, I said I was definitely going to be picking up the last two volumes, which I did, but didn't get around to reading. Have I mentioned I can be a bit of hoarder when it comes to books? Anyway, I finally decided to read the final volumes, and I am really glad I did. The classmates they help and the problems they deal with are both timely and poignant. The final volume has one of the best twists I've ever read in a book, and just elevates this series to a whole 'nother level.
Not much changes in these volumes. Hamura and Chiaki continue to do their thing, with Chiaki harassing Hamura to help someone, he sees someone's dark aura, draws the picture of the darkness in their heart and they dive in, solving the problem, and Hamura picks up another friend. I really enjoyed reading about some of the problems their classmates had. Problems of bullying, high expectations from parents and themselves, and even gender identity disorder are addressed. Despite all the whining Hamura does about having to help others, he's the one who finds the answers that help his classmates. He encourages Hishida to talk to Sugiura, and then leads his class to hear him as well, which gives Hishida the understanding and support he needs. He also helps Moe see that dreams do come true, with a lot of hard work.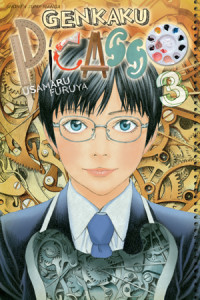 While all of the individual stories are good, it's really the final story, that takes up most of the third volume that sets this title apart. It is devoted to Hamura having to face the darkness in his own heart. The accident that killed Chiaki is never really shown or explored until this story. Hamura must finally face what happened and learn to accept it. This story is really about grieving and learning to move on, and Furuya shows Hamura's difficulty in accepting Chiaki's death masterfully. His story juxtapositions with all the classmates he's helped, his friends, coming together to return the favor. The "weirdo loner" has managed to make friends with many different types of people, and created his own support system he never knew he needed.
What I really enjoyed about the ending was the way some of the things that seemed supernatural were explained, and the reader is left to wonder if Hamura was just an unreliable narrator. But there are still enough questions left unanswered that one can't really say that for sure. I really like that uncertainty.
Furuya's art is amazing. The images in people's hearts aren't as disturbing this time. Medieval knights in battle, a statue of the Asura, stuffed animals ripped up. They are all much easier to deal with than some of the first volumes images. The work in Hamura's story is well done too, showing the accident in a heart wrenching but not grisly way. He also did a great transition from the picture of Hamura's heart to the accident scene that I really enjoyed. I love Furuya's realistic style, but his occasional drops into comedy, especially with some of Hamura's expressions are great fun.
Genkaku Picasso starts out as a supernatural-ish mystery series, but becomes something more by the end. The problems that Hamura and Chiaki have to fix are relatable to teens or anyone who was a teen once. The characters are fun and varied, and never hit any of the stereotypes you might expect in a high school series. Sugiura ended up being my favorite as Hamura's stoutest friend. Even after they get into a fight, he is leading the way to bring everyone together to find and help Hamura. If you've ever passed up this series, do yourself a favor and pick it up. It's available in print and digitally, and for the size of the volumes, their price is a steal. And at only three volumes the investment and shelf space is small. Genkaku Picasso is an amazing series that is a must read.