Hikari Hamura, nicknamed Picasso because of his natural artistic abilities, survived a horrible accident, but his friend Chiaki wasn't so lucky. Suddenly, Chiaki appears in front of him and tells him in order to keep living he must help the people around him. Can Hikari save people with his sketchbook and a 2B pencil?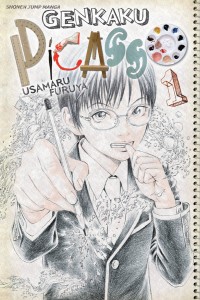 By Usamaru Furuya
Publisher: Viz Media – Shonen Jump
Age Rating: Teen+
Genre: Supernatural/Mystery
Price: $9.99
Rating:





I read the first chapter of this series when it was previewed in Shonen Jump. While I liked it, I didn't run out and buy the first volume when it came out. It wasn't a "must have" at the time. But with an MMF coming up featuring Usamaru Furuya, I thought Genkaku Picasso would be the most accessible of his available titles. I definitely enjoyed the full volume more than the just the first chapter. There is some dark imagery, but it is balanced with plenty of light moments and a bright resolution for all the people Hikari and Chiaki help.
What makes Genkaku Picasso work so well are its characters. Furuya has created a quirky lead with a cast of characters to match. Hikari Hamura, aka Picasso, so named for a spelling error and his love of drawing, is a fun yet endearing lead. He is a bit of an introvert, and reacts with some hostility to his classmates. He has a nervous habit of chewing on his thumbnail, but has a real talent for art and greatly admires Leonardo Da Vinci. His only real friend is Chiaki, a childhood friend who likes to read while Picasso draws by the riverside. We don't get to know Chiaki too well, as she is killed in the first few pages, but their bond of friendship is strong. Chiaki cares for Picasso, but not romantically so. She seems more like a big sister than a love interest.
Picasso beings to develop a circle of friends as he starts helping his classmates. The first classmate he helps is Sugiura, a popular boy who liked to tease Picasso, but after his help becomes more friendly with him. Akane, the girl Picasso helps next, not only becomes his friend, but also develops a sort-of crush on him. Of course, Picasso isn't too happy about this change, but he seems to accept it, as Sugiura and Akane start eating lunch with him, and are usually the ones who take him to the Infirmary when he dives into a picture and can't move or speak.
The pictures that Picasso draws of his classmate's hearts are often dark, and sometimes disturbing. Though, the images can also be misleading. Manba's picture wasn't of anything he desired, but rose from his concern for Kotone, who he also has a crush on. Akane's picture I found to be the most disturbing, but that has more to do with my love of animals. I can't believe any animal would be treated like that for any reason. Anyway, the chapter still has a good ending, but it's one I can't read over.
The darker imagery is balanced by the more light-hearted moments, most of which are at Picasso's expense. His inability to interact with his classmates, which often results in him asking blunt, inappropriate or completely off base questions based on the pictures he draws puts him into a lot of awkward situations. I don't usually like seeing characters in awkward situations, but Picasso causes his own problems. One scene that particularly struck me was after helping Sugiura, he felt happy that he could help someone, and then immediately felt down because he was going to have to do it again. It's these short, quick moments that are true to the character that make them funny rather than some attempt at humor.
I admit to being a bit put-off by the art at first,especially Picasso's lips. It looked like he was wearing lipstick, and it bothered me. But once I got past that I could better appreciate Furuya's work. Picasso's "heart" sketches are great, and I really liked the detail he put into Picasso's practice sketches. It really shows his potential, and makes his "heart" sketches that more believable.
Genkaku Picasso is different from other shonen titles but in a good way. The characters are odd but entertaining, and watching their interactions so far has been fun. The problems Picasso and Chiaki have to solve are realistic and different from the usual teen problems that other manga tend to focus on. It's this difference that really makes Genkaku Picasso stand out. I will definitely be picking up the other two volumes of this series.