I wasn't going to read No Longer Human. I'm one of those people who hears "literary classic", and my brain shuts down. I've never been big on the drama and tragedy that usually permeates these kinds of books, but I'm making an effort to "expand my horizons", so I decided to at least give the first volume a chance. What I found was a compelling human drama that didn't feel like homework at all.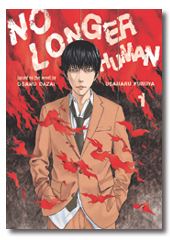 By Usamaru Furuya; Based on the novel by Osamu Dazai
Publisher: Vertical, Inc.
Age Rating: 16+ (Older Teen)
Genre: Drama
Price: $10.95
Rating:





No Longer Human, written by Osamu Dazai, originally took place just after Japan's defeat in World War II. Furuya takes this story and updates it for the 21st century, making it relatable to modern-day readers. He starts the title with a great hook. While he is surfing the internet for ideas for his next manga, Usamaru Furuya stumbles onto a link to Yozo Oba's "Ouch Diary", a blog about his life. This was a great way to start out the story since it's so believable. Web surfing can lead to some strange places, and the fact that he gets sucked in in spite of himself was another great touch.
I think the choice of setting the story in modern times was the right one. It makes what Yozo goes through more relevant to the audience. While the themes of the story may be universal, a setting from over 60 years ago can make it too far removed to grab the reader. The original story will still bring in readers, but modernizing it will bring in more.
Furuya also does an excellent job of portraying Yozo's emotions. At the beginning, Yozo doesn't know what emotions really are, or what it means to feel them. He doesn't understand what it means to be human and Furuya shows this by depicting Yozo as a puppet. He dances on the strings to fit into whatever situations he's in. When he tries to commit suicide with Ageha, he is shown as a doll breaking apart. It's after this incident that he starts to understand emotion and is no longer depicted that way.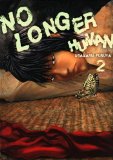 In some way, these first two volumes show Yozo maturing backwards emotionally through the women he meets and lives with. When he's with Ageha, he ready to give up on life, thinking there's nothing left to experience or live for. When he lives with Shizuko and her daughter Shiori, he gets a taste of what being married could be like. And, when he runs away to Mama, he can finally be a teenager. She acts like a real mother figure to him, one he doesn't seem to have ever had. When he meets Yoshino, he acts like a schoolboy with a crush, which really shows his emotional growth. Before, he looked at women as objects to have sex with, not understanding, or even trying to understand their feelings. With Yoshino, he doesn't seem to feel that way at all.
Things seem to be looking up for Yozo by the end of volume 2. He has a home where he is accepted unconditionally, and he seems to have found true love. The words at the end though seem to hint at more bad times to come. After he has started to rise up, it seems that Yozo is destined for a fall. But while the words are ominous, it's Furuya's panels on the last page that really gives meaning to the darkness in them. The last panel almost makes you shudder at the implications.
No Longer Human is a classic in the truest sence of the word. It tells a story that is not only universal, but also timeless. The feelings and experiences of Yozo can be found in any time period and any society. Dazai's story is compelling on its own, but Furuya's art just drives home the story that much more. His imagery adds so much to the words and expresses what words alone can't. I can't recommend this title more highly.