Words are powerful. Insults and rumors can derail a career; a bit of encouragement can give someone the strength to pursue their dreams. When a high school boy skipping class to sketch shoe designs and a taciturn woman drinking a morning beer meet in a Tokyo park, they say little, but the woman bids farewell with an ancient tanka poem. Will the boy figure out the poem's meaning-and its corresponding response-before it's too late?
The Garden of Words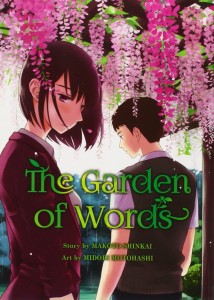 Written by Makoto Shinkai; Art by Midori Motohashi
Publisher: Vertical Comics
Age Rating: Teen
Genre: Drama
Price: $12.95
Rating:





The Garden of Words is based on an anime movie that was released in 2013. It takes place over a short period of time, just a few months in the summer, during Japan's rainy season. But in that short period, two people find enough to say to give flight to the hopes and dreams for both of them.
This story focuses on two people, Akizuki, a high school boy who dreams of being a shoe maker, and Yukino, a young woman who seems lost and without purpose. These two meet one rainy day under a gazebo in a Tokyo park, and continue to do so on rainy mornings where they begin to talk and open up to each other, but never introduce themselves. Things become complicated once their true identities are revealed, and feelings are confessed.
I liked Akizuki and Yukino. They are both sympathetic and likable leads. Akizuki's determination to follow his dream no matter how silly it seems to others is cool. His hesitation to tell anyone his dream is reasonable for a teen who expects ridicule from his peers and discouragement from adults. He still works hard toward his goal, constantly drawing shoe designs and practicing working with leather. He spends his summer break working to earn money for tuition and supplies for a trade school. Yukino is just the opposite. She has an experience that turns her dream job into a nightmare, and worse, is practically bullied by those who should respect her for something she had no control over. It's really sad what Yukino goes through, but Akizuki's kindness is just what she needs to escape the mire she's been trapped in.
The Garden of Words is the story of recovery and self-reliance. Akizuki and Yukino were drifting in their lives, knowing their dreams but having their doubts. Meeting each other in the garden, where they would support each other with just kindness and friendship, they both found their paths and could take them, even if they weren't necessarily together. It is a beautiful story filled with emotion. Midori Motohashi's art is delicate and expressive, displaying the characters feelings perfectly. In one volume, a sensitive story of life and love is cultivated to illustrate the redemptive side of the human condition.