An imperial capital in an era of splendor and romanticism… Orphaned in an earthquake, Sorath is taken in by Baron Kamichika, the lord of "Blood Blossom Manor." There, he pledges eternal friendship with Garan, the Baron's heir, and Kiyora, Garan's fiancée. But their friendship turns grisly by events none of them could foresee. The tender feelings each secretly harbors, the machinations of Baron Kamichika and his strange and seductive female companion, and a fateful encounter with a young girl with bizarre powers…all draw them to the Walpurgis Night and the nightmare's climax!
Demon From Afar Volume 1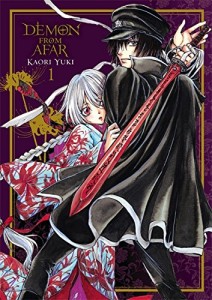 By Kaori Yuki
Publisher: Yen Press
Age Rating: Teen
Genre: Supernatural/Horror
Price: $18.00
Rating:





In general, I've enjoyed more of Kaori Yuki's works than not. Her blend of bishonen characters with elements of horror and a touch of humor usually appeal to me. In Demon From Afar, all of the elements are there, they're just not striking the right chord for me.
Sorath, the protagonist, is a boy with no memory of his past and is saved by Garan, the heir to Baron Kamichika, after a terrible earthquake strikes the capital. There really isn't anything remarkable about Sorath. He is devoted to Garan, taking responsibility for anything Garan might get punished for, and always holding himself back to make Garan look good. He acts as a bodyguard to Garan and his fiancée Kiyora. But beyond that, nothing seems to motivate him. He is content in his role, not interested in finding the meaning behind the symbol on his hand or learning about his past. He's the character we are supposed to be most invested in, but there's nothing interesting about him.
Garan and Kiyora aren't much better. Kiyora seems more like comedy relief with her inept social skills and love of eating. Of course, she is more interested in Sorath than her fiancée, and Garan is oblivious to the differing feelings. Baron Kamichika is about as one-dimensional as the paper he's printed on. The evil villain who care about no one but his own ambitions, not even his own heir. Everything and everyone is a tool for him to use to reach his goal; immortality. I didn't really hate him as much as I hated his shallow motives. His demon servant Liece/Mephistopheles wasn't much better, playing along, but helping to betray the Baron at the end.
What I did like was some of the horror elements. The belief by locals that the spider lilies that surround the Baron's manor are red from soaking up human blood was made all the more creepy by the discovery that Sorath makes when he finally starts investigating what the Baron is up to. I also like the idea of the yin/yang miko, with the darker one becomes, the more pure the other. The way Noella was restored wasn't what I was expecting and definitely one the disturbing side.
I didn't dislike Demon From Afar, but it didn't hook me either. This first volume feels like a prologue. It's setting up the background and characters before getting to the real story. It feels more like it's just spinning its wheels as it doesn't set Sorath up with any kind of goal or motivation. The higher price for this volume is because it is printed in hardcover with a dust jacket. There is one color plate. More would have been better. Overall, it is a nice presentation and worth the extra dollars. I'll give this series another chance and check out the next volume, but something had better happen soon.