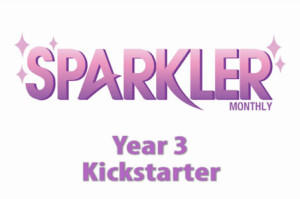 I've made no bones about my support for Sparkler Monthly, the online monthly female-gaze magazine that started two years ago. I loved the idea of getting books, comics and audio dramas that were marketed directly for me, and I've been a subscriber since the 4th issue. Sparkler Monthly is a subscriber supported magazine, and for Year Two, they did a subscription drive to try to up membership to increase material in the magazine as well as advances to the creators. The drive is currently at 231 members, having made it past the first two tiers. But for the magazine to really be self-sustaining, a minimum of 1000 subscribers were needed for Year Three to go forward. While the move to 231 was quite an improvement, it wasn't really enough. But instead of throwing in the towel or downsizing, the resourceful women at Chromatic Press, the publisher of Sparkler Monthly, have put together a Kickstarter campaign to help fund Year Three.
Over 40 days, Chromatic Press is looking to raise $15,000 to put out 12 issues of the magazine as well as new surprises in bonus content, as well as experimenting with different formats and distribution. There are plenty of reward tiers, most of them relating to the magazine. Basically, a pledge to the Kickstarter is like paying a subscription, but with a few more benefits. They are set up in groups, letting backers choose how they want their content; serial, eBooks, or print. The lower tiers feature eBooks and/or paperbacks of the backers choice. At the $50 tier, the magazine subscriptions kick in, with eBooks and download access to the previous two years, as well as their adult line Cherry Bomb becoming available.
For fans of either the stories or creators, there are also special tiers that include commissions by the creators. Starting at the $170 tier, backers get all the benefits of a VIP subscriber, as well as a commission from the following creators: Kaiju (Art; The Ring of Saturn, Mahou Josei Chimaka), Alexis Cooke (Art; Dinner Ditz, For Peace), Onorobo (Art; Dusk in Kalevia), Jen Lee Quick (Art; Off*Beat, Gatesmith), Jenn Grunigen (Story; Skyglass), Lianne Sentar (Story; Tokyo Demons, Shut In, Shut Out), Romy-Chan (Art; Tokyo Demons). All of the creators have volunteered to make these tiers possible. There is also one tier that is sponsored by a fan of the magazine.
The people behind Sparkler Magazine are really amazing, and I'm glad to see them continuing to push to keep the magazine going. They are great with their time, willing to interact with both fans and prospective creators not only through the forums, but in social media as well. To be honest, I was a little worried when I saw how slow the subscription drive was going, and that things might get cut back. If I was better off financially, I would totally go in for the $165 I WANNA READ THIS AS A MAGAZINE: YEAR 1-3 COMPLETE VIP TIER so I could get eBooks of the stories that started before the magazine. I don't mind reading on a computer screen, but I don't want to be restricted to being online. Let me download them and read them at my own pace! But for now, I will have to suffice with being a monthly subscriber and show my support as one of the 231.
I recommend people check out the Kickstarter and pledge if they're interested. All of the back issues are available to read for free at Sparklermonthly.com, so you can try before you buy. I've read all of the comics that have run so far, but have fallen behind on the novels and audio dramas. It just means I always have something to look forward to. I highly recommend Orange Junk, a recent comic addition. I also really enjoyed the short comic Shut In, Shut Out. Knights-Errant, Witch's Quarry and Windrose have been great reads as well. As of this writing, the project is at 30% after only 3 days, with several of the commission tiers already gone, or nearly gone. Hopefully this bodes well for the project and the magazine reaches new audiences.