When Louise's wealthy family loses everything, she has to pull herself up by her bootstraps and start over in a new high school – where the smartest boy is the meanest, and the hottest boy is the weirdest. But Louise needs tutoring, so the three become a team…and it's heaven, hell, and everything in-between.

Orange Junk Volume 1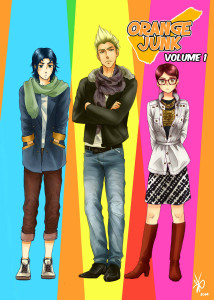 By Heldrad
Publisher: Chromatic Press
Age Rating: Teen
Genre: Romantic Comedy
Price: $6.00/eBook – Free to read at Sparkler Monthly
Rating:





In general, I don't care for the riches-to-rags stories. I don't find financial hardship to be funny no matter who is writing it, so I had my doubts about Orange Junk when it was announced as a new addition to Sparkler Monthly. But I have a terrible case of curiosity and decided to check the series out on my lunch break at work. I ended up reading all 7 available chapters over lunch and break. Orange Junk spins an engrossing story filled with appealing characters and a story that balances the humor and drama just right.
The protagonist of Orange Junk is Louise Barton. Her family used to be wealthy, but her father's company went bankrupt and they lost everything. They move into a regular neighborhood where Louise has to go to the local public high school. It's like a whole new world for her, but she does adjust and makes friends. Bruce Daniels starts out as Louise's nemesis. He is quick to anger and is always getting into fights. He also hates rich people, so sees nothing good in her. Andrew Grey is the third member of the trio. He is a new student like Louise. He lost his parents and now lives with his Grandmother who spends a lot of time traveling. He is good-looking and a bit clumsy. The trio become friends when Bruce is forced to tutor Louise in math to keep their teacher Jack from telling his mother about his fighting and Drew lets the use his house when rumors start to fly at school.
I really like all three of these characters. I wasn't sure I would like Bruce at first. He was so quick to judge and jump to conclusions about Louise. He is hyper-sensitive about his family's financial situation, while Louise isn't. She seems to have accepted the change in her lifestyle, though she does hold a bit of a grudge against her father's partner who was responsible for the family's downfall. For most of the first volume they spend a lot of time bickering. I loved that Louise called Bruce and hedgehog, and imagined him as a pineapple when his mother described him as tough on the outside but sweet on the inside. They do finally come to an understanding, mostly with the help of Drew. He starts to hang out with Louise and Bruce during their tutoring, and the reason why is not one you would expect. I thought is was a good twist.
The humor is strong emphasized in this first volume, but dramatic elements still get dropped in. The trios' back story is revealed as well as glimpses into their family lives are shown. Bruce is tricked into revealing his when Louise opens up to him first. All three have very different homes to go to. Bruce's is lively and happy. Louise's is still filled with anger and resentment. You can't see the bonds in Louise's that you can in Bruce's. Drew's family quickly becomes Bruce and Louise since he is essentially alone, but he always has an upbeat attitude and smile.
The art of Orange Junk is charming. It has a shojo feel to it, while having a life of its own. Both Bruce and Drew are good-looking in their own way. Louise is comely, though I like her better with her hair down. I also really like Bruce's hedgehog spikes. The characters also have their own fashion styles, and I enjoyed seeing them in different outfits.
Orange Junk is a fun series that delighted me, all the more since I wasn't expecting it to. It has a lot of shojo manga tropes, but handles them in a way that they don't feel old or tired. I was riveted as I torn through the pages, the story and characters growing on my with every chapter. If you are a fan of shojo manga or just good stories, check this series out.
Become a member and get Sparkler Monthly every month with a $5 monthly subscription, pay for a year at $50 and save $10, or become a VIP for $125 and get back downloads of serialized titles as well as Cherry Bomb adult stories.