The awkward feelings between Louise and Bruce are growing, though it seems like Louise will never realize what's going on in Bruce's head. But when Bruce's family runs into even more financial trouble and he needs money fast, a modeling competition may be the best–and most embarrassing–way to solve all his problems at once.
Orange Junk Volume 2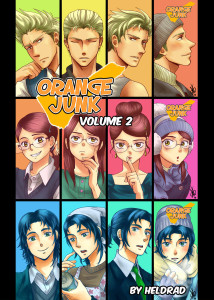 By Heldrad
Publisher: Chromatic Press
Age Rating: Teen
Genre: Romantic Comedy
Price: $6.00/eBook – Free at Sparkler Monthly
Rating:





The second volume of Orange Junk starts a new arc that takes the characters out of school and into a modeling competition. The change of venue brings in new characters, including a rival for Louise's affections, and plenty of new opportunities for comedy and drama.
I really enjoyed this second volume, possibly more than the first. While the series does use the shojo tropes well, all the time spent at school was starting to drag. This volume changes that as the characters move into new environments. Bruce's mother has to be hospitalized, and as the bread-winner with no insurance, it's up to him to try to find a way to cover everything. Enter the male modeling competition with a cash prize for 1st place. While Bruce is away, Drew and Louise spend more time at Bruce's helping out with his siblings and being all domestic. Drew is really cute with the kerchief on his head, baby on his back and broom in his hand. While Louise isn't much help domestically, it is a chance to get out of her house and away from the drama brewing there. While we don't see it as much in this volume, there are subtle hints that things may be getting worse instead of better.
The modeling competition is really where all the fun and excitement is. Bruce's change from tough guy to chic is amazing, though I do like his "hedgehog" hair better. It's cute seeing how uncomfortable and vulnerable he was answering the personal questions, going through the makeover, and walking the runway in a speedo. A couple of new characters are also introduced. Ryan is one of modeling competitors, who Louise calls Flower Boy. He looks much younger than his stated 21 years, and isn't really interesting in winning the competition. He becomes friends with Bruce. Miles Reagan, who Bruce's sister Jenny calls "Refined Boy," is the son of the man who cause Louise's family to go bankrupt. He has feelings for Louise and thinks he can turn her around and get her to reciprocate them. The scene where he first talks to Louise with Ryan and Bruce is really funny and shows everyone's level of comprehension of the situation. It was great.
Miles' declaration to win Louise back is going to be a problem for Bruce and Louise as the pair have been slowly realizing their feeling for each other. Both spend a lot of time blushing as Bruce dreams of Louise, and through the competition, Louise sees a lot of more of Bruce's body. It's hard to imagine Miles having any kind of chance getting between them, but some things he says to Louise implies more was going on than she knows between their families. But he comes off so smarmy that I really don't want to see him either win the competition or even Louise's friendship.
This second volume of Orange Junk was very addicting, making it hard for to pull away. The competition should really start heating up now that Bruce has decided to get serious, and the stakes were raised by Miles. I love that it's the guy that gets to be the model and objectified instead of the girl. This twist is part of what really made this volume fun for me. I'm really looking forward to seeing where the story goes in the next volume, and am really glad Sparkler added it to the magazine, so I can get in monthly chunks.
Become a member and get Sparkler Monthly every month with a $5 monthly subscription, pay for a year for $50 and save $10, or become a VIP for $125 and get back downloads of serialized titles as well as Cherry Bomb adult stories.