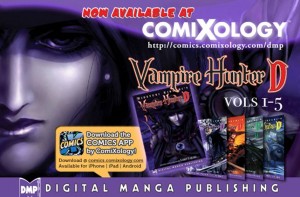 This week Digital Manga Publishing announced that their manga, starting with Vampire Hunter D, would be available on the digital comics site, Comixology. At first this sounded like good news, until I saw the pricing. Each volume on Comixology will cost $9.99.  This is only about $3, or 23%, off the print pricing. That didn't seem like a very good deal to me, so I went looking around at other sites DMP has put VHD up on and checked the pricing.
Amazon for the Kindle: $7.95
Barnes and Noble for the Nook: $3.99 for 1/2 a book. Total cost for one volume: $7.98
iPhone/iPod Touch through Uclick: .99 per chapter @ 6 chapters: 5.94
eManga, DMP's own website: 350 points, or $3.50 to rent for 72 hours, with another $3.50 to rent permanently. (That sounds like a oximoron, doesn't it?)
That makes the average price for digital Vampire Hunter D manga around $7.20, or about 44% off of print pricing. That's almost double over Comixology's percentage! So what are the advantages of going with Comixology then? The eReader platforms such as Kindle and Nook  are already on have web browser, iOS and Android, and eManga IS a website. They don't have a dedicated app for the iPad like Viz and Yen Press, and the press release stresses Comixology as DMP's debut on the iPad.
So, is that it? They just didn't want to make an iPad app of their own like their competition? I think it's a little deeper than that. Let's face it, there are a lot of apps for manga (legal and otherwise). By going with a dedicated app, you are limiting your audience to people who already know they like manga. By going on Comixology, DMP is reaching an audience that might like manga, but either doesn't know or didn't a dedicated app for it to try it out. They can read comic readers that might be more willing to check out the previews and maybe be convinced enough to by a volume. It's not like there are a lot of manga publishers on there (Tokyopop doesn't count, and Dark Horse has more comics than manga). This is a good way for DMP to get their books in front of readers how might not consider them, and while Vampire Hunter D might be the most obvious choice as its their first OGN, it's also more in line with a comic readers taste than say their Harlequinn or BL titles.
DMP promises more titles on Comixology, and with their slowly growing list of non-BL titles, they will hopefully have a healthy store that makes manga available to everyone, and not just owners of iOS devices.