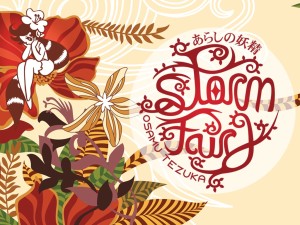 It's been just over a month since DMP ended their last Tezuka Kickstarter project, the printing of Clockwork Apple, with the stretch goals of printing Brave Dan, and reprinting of Barbara and Swallowing the Earth. On June 16, they launched the next project, to print the shojo short story title Storm Fairy. After 4 days, the project is $823 shy of hitting its base goal of $14, 200.
Storm Fairy is a collection of the 3 short stories. "Storm Fairy," or "Fairy of Storms," is the main story that the collection is named after. An Empress fleeing her burning castle and meets a wood fairy. In exchange for the fairy's favor, the must give up the face of her next born child. That is Princess Ruri, who must wear a mask to hide her disfigured face. Ruri is usurped when an unscrupulous man learns her secret and steal her mask for his daughter. On the run, Ruri meets the samurai Tonosuke who takes her in, and the fairy Hanoke, who unknowingly has Ruri's face.
The second story, "Kokeshi Detective Agency," is described as having a similar tone to the Encyclopedia Brown detective stories. Paco is not afraid of things that go bump in the night, so she not bothered by the spooky mysteries she solves with Waco, her dog friend protects her. In the "Pink Angel," the fair Pink from the realm of beautiful sunsets tries to make people happy and in need by morphing into what it is they need while King Brown and Sepia, from the realm of Thunderstorms, try their best to make people miserable.
I think this is the first title DMP has kickstarted that has me tempted to back. While all three stories sound appealing, I'm really interested in "Kokeshi Detective Agency." I have a fondness for detective stories and a nostalgia for Encyclopedia Brown, so getting a taste of both is a boon for me. The rewards structure is pretty sound, with the first tier to get the book digitally being at $10, a reasonable amount for a kickstarter, and $20 for in print. Some new rewards are t-shirts, a dress, and a tote bag, all actual useful items that let people show off their Tezuka love.
There are two stretch goals set on this project. At $26,000, Unico will get a reprint run, but for an addition $1000, it will get a reprint run with higher quality colors. For another $5,500, or a total of $32, 500, the previously digital-only title Crime and Punishment will get a print run. I'm not too big on the Unico reprint, but I'm always for giving a digital-only series a print run, even if it's one I'm not interested in. Though considering the subject of this project, I think another shojo-y title would have been more appropriate.
Considering DMP still has 25 days to hit its goal, there is little doubt Storm Fairy will be funded. What it's going to come down to once again is if the stretch goals are hit. Clockwork Apple went down to the wire to get all its stretch goals, but it did make it. It will be interesting to see if this, the first Tezuka shojo to kickstart will do as well as its shonen and seinen siblings.