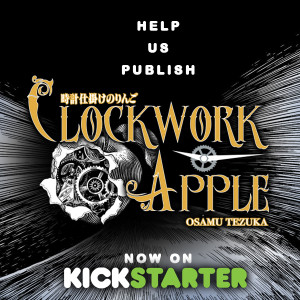 On Thursday, Digital Manga Publishing announced their next Tezuka-in-Print kickstarter. They are being modest again, with a single series anthology, Clockwork Apple. It features 8 short stories of speculative fiction that were written between 1968 – 1973.  DMP describes the volume as such:
In this collection of speculative fiction a man finds a wonder drug, a robot has a baby, a town is subjected to control by substance, a robber runs away from murder, a man searches for his mysterious love, American school kids are kidnapped, an activist takes part in political intrigue, and space hippies defy peace conventions.
It is recommended to fans of the TV show The Twilight Zone and the comics Creepy and Eerie, due to similar tone and themes. Considering what a classic those titles are, that is high praise for this volume.
DMP is looking for $13,500 to publish the book with the digital tier hitting at $15, and the print tier at $20. The book will be a little thicker than most manga volumes, coming in at 284 pages, and DMP is saying they will use heavier stock paper, which is what probably puts the print book at the near MSRP of $19.99. There are of course plenty of rewards, including a digital companion, bookmarks, wooden coins, a cabby hat, moleskin journal, tote bag, and pins. They have also brought back their Library tier, were 5 volumes of the book will be sent to the library of your choice.
There are also stretch goals planned, with the first hitting at $18,200, what will put the currently digital only title Brave Dan into print. This is a good strategy for DMP to take. The work for Brave Dan has already been done. It was translated as a DMG title and is available on eManga. Kickstarting every Tezuka is untenable, but making them stretch goals for already available digital titles will put them much more into reach. There are five other titles available; Age of Adventure, Crime and Punishment, Mr. Cactus, New Treasure Island, and The Castle at Dawn.
As of this writing, the Kickstarter is at $12,096 with 328 backers with 25 days to go. It is nearly funded after 5 days with only $1404 left to go. Hitting that first stretch goal is very doable, and I rather hope it does make it. I would love to see the stretch goals include printing digital only titles. I think DMP's goal to get Tezuka library in print is a good one and this is may be the way they were looking for to do it.