Sona-G is one of the most popular bands on the scene with a strapping vocalist and a hunky guitarist! Masumi, on the other hand, has all the trust in the world with her technical skills on the guitar, but she's just been dumped and the world looks grey indeed. Then one day, Masumi finds herself playing second guitar for Sona-G! What's going to happen to her decision not to fall in love…? This volume also features another two wonderful stories!
Sona-G Series Volume 1: Heaven is Not Needed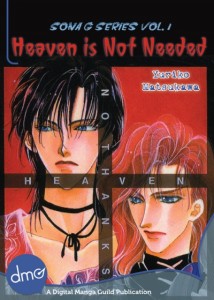 By Yuriko Matsukawa
Publisher: Digital Manga Guild
Age Rating: Teen
Genre: Romance
Price: $7.95/eBook only
Rating:





Sona-G Series is a one volume anthology featuring three stories by creator Yuriko Matsukawa. The stories are all romances featuring girls finding love when they aren't looking for it. While all three stories are entertaining and even fun reads, none are really compelling.
"Heaven is Not Needed" is the main story of this anthology as well as giving it its name. It is about high school girl Masumi Murakami who is asked by the wildly popular duo Sona G to play acoustic for them on a big gig coming up. But because her crush left her because of her skills on the guitar, she has quit playing. She is tricked into agreeing and joins Ayase and Hiroshi for the concert. Masumi is a good female lead. She has a strong personality, and doesn't put up with a lot of Ayase's sharp tongue, as he likes to bait her and use her pride against her. Hiroshi isn't as brash as Ayase, but he'll resort to a trick or two to get Masumi to play. The story takes a turn for the dramatic when Ayase's young niece is kidnapped with the ransom being that Sona G cancel the concert. While the kidnapping did make a nice change of pace for the drama to be external, it also felt tacked on and rushed. There is no explanation given for the kidnappers wanting to stop the concert. The resolution of the potential love triangle between Ayase, Hiroshi and Masumi didn't work for me either. I didn't feel the connection between Masumi and her chosen one. This story tried to do too much and ended up feeling lacking in the end.
"Flower Garden" is about high school student Karin who is studying for college entrance exams. Her distant cousin Toshisada has come to live with her family while he takes entrance exams as well. But there is something weird about Toshisada; he is up at all hours of the night in the family garden doing odd things. He eats flowers and he never seems to be studying. His activities become distracting to Karin who gets mad at Toshisada until he reveals to her what he's been doing and why. The writing for this story was much tighter and made for a better read. It didn't seem like a love story at first as it focused on Karin's indecision about her future, and Toshisada's strange behavior. Everything comes together at the end, even though the romance is left up in the air, which I think is a good thing.
"Onions, Onions Everywhere" has another high school student, Mariko, living in her aunt's apartment complex while her parents are working overseas. After a misunderstanding with her neighbor Mr. Miwa, a strange man who is always wearing sunglasses, she become friends with him and they trade sweets in a friendly competition. Mr. Miwa works in a sweets shop and after learning that Mariko hates onions tries to convince her of otherwise. Onions are a kind of strange topic to use to bring two people together, and an even stranger ingredient for a cookie, but it ends up working somehow. Mariko is pretty unwavering in her dislike of onions, but not unreasonable. Miwa's reason for always wearing the sunglasses is unexpected, but still humorous. I wouldn't try it myself, but I would be interested to know if anyone tried the recipe for Onion Cookies used in the story.
The art of Sona-G Series is very 90s-2000s, in both style and in the character designs. I don't consider this a fault for the series, but not everyone may appreciate the sharp lines and spiky hair.
Overall, Sona-G Series was an entertaining read, but not one I would call a must read. The stories are light, and the romance doesn't always seem to be the focus, which is an element I enjoyed. It helps to set the volume apart from other teen shojo titles. The girls here aren't mooning over the men in their stories, but also aren't unwelcoming when the feelings come, and those are romances I can ultimate appreciate.