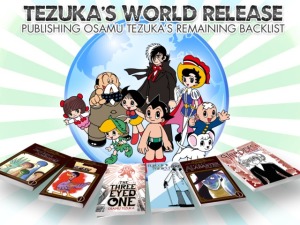 It seems like the impossible, but it happened. The Digital Manga Kickstarter campaign, Tezuka's World Release failed to meet its goal of $380,000 in 30 days. It was an ambition project. The entire kickstarter consisted of 6 series' totaling 31 volumes to be published all at once. But it was a little too ambitious. The $380,000 as the initial goal only covered 2 titles totaling 20 volumes. Two more titles totaling an additional 5 volumes would become available at $475,000 and the final two titles totaling the last 6 volumes would become available at $589,000. That's a lot of money, over half a million dollars for fans to pony up for just six titles.
Controversy surrounded this project right from the start. The cost and the levels needed to pledge just to get print copies of books was the first and foremost concern of many supporters. At the beginning, backers had to pledge at the $750 level to get copies of the books. That's a lot of money for 31 books. There was a lot of questions about the tiers, mostly filled with promotional items and why getting books, the reason most people were looking to support the project, were at such a high price. Alex Hoffman of Sequential State did a 3 part post analyzing the project and discussing the issues he saw with it.
Not everyone saw the project as a negative. The Tezuka in English tumblr posted a defense of the kickstarter, asking people to not look at the project as a way to preorder books, but as an investment in DMP and their vision. DMP president Hikaru Sasahara seemed to think the same as a message from him in video and text was posted to the kickstarter page as updates. In his message, he explained why the cost of the kickstarted needed to be so high and what were the company's ultimate goals. His message still wasn't enough for backers, and a FAQ page was posted to answer further questions.
Ultimately, all of these explanation weren't enough. It really appeared that DMP was asking Tezuka fans to fund, not just the project, but the operating expenses of the company. This isn't what Tezuka fans were used to being asked, or were expecting. Past kickstarters run by DMP were about getting a few books out and fans were happy to fund them. But what DMP tried to do with this project was an entirely different animal and the backers made it very clear that they weren't interested. In the end, only 115 people backed the project which raised $26,971.00, or 7% of the first goal.
With the information that has come out of this project, I do wonder what DMP said to Tezuka Pro to get them to hand over the license of 500 volumes and what they expected. Was part of DMP's pitch the numbers from their kickstarter, and other successfully funded Tezuka kickstarters? It does seem that Tezuka was the one creator that you could put up a kickstarter for and people would just throw money at it. But it's now apparent that even die-hard fans have limits. In DMP's follow-up answers, it was implied that kickstarter was integral to the success of the license. Possibly even in them getting it. DMP was vastly overestimating western fans means and desire for Tezuka titles if they were counting on them to fund the entire project.
The thing I found most troubling was the expectation that backers would pay for DMP's operating expenses. They should have had that all planned out and funded before even taking on such a monumental project. Kickstarter has been and continues to be about funding a project. Backers fund projects. Investors fund companies. Maybe DMP should look into Patreon if it's going to be that much of a hardship on them.
I do hope DMP does try another, more modest kickstarter. There are still plenty of Tezuka titles that western fans want and will fund. They just need to find that balance between what fans want and what they will pay for. As DMP found out the hard way, this wasn't it. Osamu Tezuka may be the God of Manga, but even with a god, there's no such thing as a sure thing.