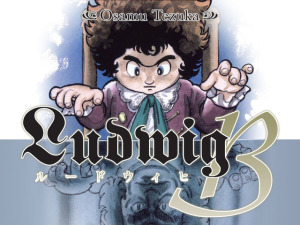 It came down to the wire again. Digital Manga Publishing, after the failure of their ambitious Kickstarter to publish 31 volumes of Osamu Tezuka's manga, tried again with a more traditional model of a complete two-volume series. It began at the end of November, just before Black Friday, and ended the day after Christmas. A difficult time to be asking for money to be sure, as people are out preparing for the holidays and buying gifts.
It started out well, hitting 20% of their goal after only a few days. They kept the pricing in line with what fans expected to pay for books, and had several digital and print options to satisfy most desires. To keep the campaign alive, they would add new tiers, and in the last week offered a special high-end tier that included a trip to Japan for $4000. This seemed to be the spur it needed to get over the lull it had fallen into that made some declare it would fail. As is usual for most Kickstarters, it came down to the wire on the last day, but it did make its goal with $1000 to spare.
When you look at how the pledges broke down, it's easy to see what people want from Tezuka kickstarters. They want the books; physical books. The tier with the most backers, 189, was for both volumes in print. Print and digital only got 19, while digital only got 18. DMP threw up plenty of bells and whistles any Tezuka fan would love, and they got backs on nearly every tier, but it seems the meat and bones of the fans, the ones they really need to make this work just want the print books at what they consider a reasonable price, which in this case was an MSRP of $15.95.
If DMP and/or Tezuka Productions can be a little patient, I think they can get through this. Fans of these works want the books, but those that want them ALL I think is smaller than those who want certain titles. Breaking the titles up into smaller, more individual runs will make it easier for the more casual fans to get just the specific titles they are interested in while the super fan can get them all on a budget they can justify.
Congratulations to Digital Manga Publishing for a successful Kickstarter to end the year, and a wish for more in the coming new year.