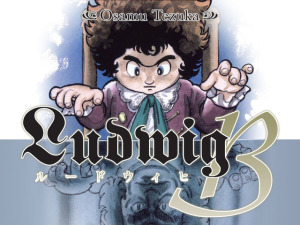 It's been less than a week since Digital Manga Publishing's Tezuka's World Release kickstarter ended, failing to meet its $380K minimum funding goal. But, like the proverbial good man, DMP is not staying down. Six days later they are back with a smaller, more modest kickstarter, and a completely different series.
Ludwig B is a two-volume series, and one of the last three series' Tezuka worked on before his death. It is about the famous composer, Ludwig Beethoven. It looks at his younger years, as he struggles with being used and abused by aristocrats and his pushy alcoholic father. Charged with watching his younger brothers during a French war, Ludwig deals with his conflicted thoughts the only way he knows how; through his music.
The goal for this kickstarter is back in line with previous DMP Tezuka kickstarters, at $21,600. The reward tiers are also more like previous kickstarters, with digital only copies of the books starting at $15, and print copies at $32. They are also offering tiers what allow backers to get two copies of the first volume to share. There are only 20 tiers, so multiple spreadsheet are not needed to track them this time. Also included is some hard to get merchandise like trading cards and bookmarks that were only published in Japan.
After only one day, they are at 93 backers and over $5200 in pledges. That's ~20% of the goal after only one day. A much better statistic than the 7% they got at the end of the last one. With Black Friday this week and Christmas coming up, these may not skyrocket up, but as people finish shopping, extra money may end up here. It will be interesting to see how it does on the last day, December 26. Will Christmas money end up here?
It was good to see DMP admit to being too ambitious, and that they listened to the comment and suggestions from their backers on the last campaign. It was a lofty goal to want to publish the remaining Tezuka catalog in 5-6 years, but just not one backers could or would bear. And at least they are warning that these campaigns will come out more often with only a few weeks break in between, so keep that in mind as they start rolling out, especially if you are on a budget. Looking at the tiers people are pledging at, it's obvious that backers do still want to support getting Tezuka manga published. Several of the higher end tiers, $89 and up, have backers, so it was never about people not wanting to support the initiative. It just needed to be done in a more reasonable and sustainable manner. Hopefully, DMP has struck that balance now.