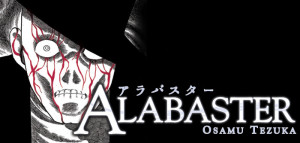 Digital Manga Publishing has announced the next Osamu Tezuka Kickstarter. It's been a month since the last Kickstarter for Ludwig B ended. It's another two volume series, and was featured as a stretch goal in the failed Tezuka World Kickstater; Alabaster.
The story follows former athlete James Block, now a famous villain who is out for revenge against all things "beautiful." While in prison, he learns of a weapon, the F-Laser, that can turn any carbon based organism invisible. When he gets out, he steals it, and tries it on himself. Instead of turning invisible, only his skin is affected. He then takes on the name Alabaster, and is joined by Ami, the granddaughter of the scientist who invented the laser, who is also completely invisible thanks to experiments her grandfather did on her mother while she was pregnant. They go on a vicious revenge spree, pulling off several heists, but Ami's innocents could be Alabaster's downfall.
This Kickstarter is a little more than Ludwig B. Digital copies of Alabaster are $8 each. For an additional $11 you can get the digital companion. To get print copies you need to pay $36, or $18 a volume. The reason of for this higher price seems to be for better paper quality. It sounds like this came up in the survey they did after the Tezuka World Kickstarter failed. What seems odd is that this puts the print books $6 above the reported MSRP, which for both volumes is only $29.90. If you look at this tier as a pre-order, it seems DMP is making you pay for the privilege of pre-ordering or their Free Shipping is built into it.
Once again there are plenty of incentives for the higher tiers with more Tezuka goodies, including Black Jack toilet paper, an Astro Boy tote bag, and wooden coins commemorating Alabaster's printing. The tiers I really like though, are the ones that donate sets to a library of the backers choice. If you're going to spread the Tezuka love, there is no better way!
There is one stretch goal on this Kickstarter. For an additional $9,800 DMP is looking to reprint Swallowing the Earth on the same better stock paper. No rewards this haven't been announced yet other than a color wallpaper for backers. I have doubts about this stretch goal being met. The number of people who want to see Swallowing the Earth on higher grade paper probably aren't $9800 worth. Ludwig B didn't go very far past its initial goal, and it took to the last 4 hours to get there. These Tezuka Kickstarters seem to be about Tezuka fans getting books, not subsidizing DMP's print runs.
After only a day, the Kickstarter is already at $8,455, with 165 backers. Both pledges and backers are up from Ludwig's start. Most of the backers are on the pre-order print tier. But it's kind of surprising that two of the limited tiers over $100 are already gone, but they were very limited, only needing 6 backers to get them. Still, Alabaster seems to be off to a good start. Fans really do seem to be looking forward to this series. We'll see how consistent the backers keep pouring in.