Gen Tsukiomi appears to be a normal high school student but there is more to him than meets the eye. So when his old caretaker asks him for help in protecting his current charge, Hikari Kuze, Gen wonders what is going on. Besides being a ditzy junior high school student, is Hikari like Gen, with a secret of her own? In what often feels like a comedy of errors, Gen tries to figure out who is after them while struggling to maintain his quickly dwindling control over the situation. As if that wasn't enough, a new romantic rival appears! But which one of them is he actually after?
Moonlight Kreuz Volume 1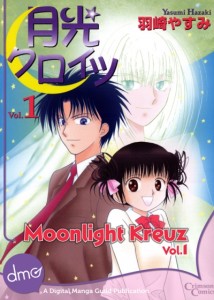 By Yasumi Hazaki
Publisher: Digital Manga Guild
Age Rating: Teen
Genre: Fantasy
Price: $7.95/eBook only
Rating:





Moonlight Kreuz had an interesting sounding premise with romance, comedy and werewolves. But the first warning was there, with the female leading being described as  "ditzy." And though I keep trying romantic comedies, I've yet to find one I really enjoy. This volume wasn't a bad read, but neither was there anything that made want to pick up more.
The lead characters, Gen and Hikari, needed first and foremost to be interesting to me. Unfortunately, Hikari is exactly the kind of female lead I dislike. She has two forms; her human form which is small, clumsy and ditzy, and her werewolf form which tall, hot and powerful. She is much more powerful than Gen and is always coming to his rescue even though he's supposed to be protecting her. I actually don't mind that so much, and it's nice that he doesn't seem to mind, but he ends up comes off as rather bland. I don't feel any real personality from him, while Hikari has too much.
The supporting characters are just as hit and miss. Hikari's grandfather and Gen's old Master is the typical lecherous, old man. His grandson Shino is the quiet ninja type who is always dressing in female disguises to help protect Hikari. Gen's father is a powerful corporate executive who has an eye for the ladies. Only Hikari's mother, who works overseas teaching Japanese, seemed the most grounded.
The villains aren't much better. The volume starts with a bunch of horny werewolves who want to mate with Hikari so they will stop turning into wolves and be more human like Gen and Hikaru. They are mostly bumbling misfits who Hikari defeats easily. The tables do get turned as Gen also becomes the target of both the Wolf Association, and of an English werewolf named Claude who doesn't care which of them changes gender, as long as he can get with Gen.
I know these characters and situations are supposed to be funny, but none of them really got much of a laugh from me. Hardly even a smile escaped my lips. Hikari's and Gen's relationship fell as flat as the humor. I just didn't buy it, especially with Hikari looking more like a little kid trying to get her big brother to notice her. The art has a 90s feel to it, which I don't mind at all. The wolf-form werewolves were given a moment to look scary, but were quickly turned much more humorous. You can understand the female werewolves wanting to get a human form since their wolf form is far from flattering.
On the whole, Moonlight Kreuz Volume 1 just didn't work for me, which is really a shame because I was hoping it would. It was nice to see a supernatural romance with some creature other than vampires. The series is only three volumes long, so I wouldn't mind reading the other two volumes to see if it improves, but this is a series I'd rather borrow than buy.
Review copy provided by publisher.