Did everyone have a good Halloween? Get lots of treats from Trick or Treating, or from your kids, as in our case? This week we have "big" announcements, digital manga, con reports, new licenses, new initiatives, and OEL manga.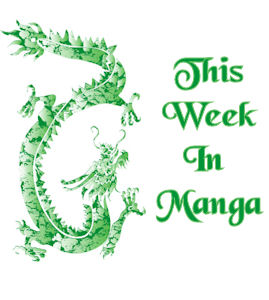 Viz's Excellent (or Bogus) Announcement
For two weeks on Twitter, Viz had been hyping up some big announcement. It finally became public early this week, breaking on Kuri-ousity with confirmations and press releases coming Monday and Tuesday. Viz was going to debut a supplemental website with exclusive manga for subscribers of Shonen Jump. Titles mentioned include Nura: Rise of the Yokai Clan, Bakuman, and Toriko. Two new titles would also be added to the print edition, Yu-Gi-Oh 5D and Psyren. The second half of the announcement was an iPad app that would allow iPad owners to download the first and second volumes of One Piece, Bleach, Naruto, Dragon Ball, Death Note and Bakuman. For a limited time, Death Note volume 1 is free. It's not the BIG announcement that people were hoping for, but it does cover a lot of bases for people. iPad owners now have more comics to read while the rest fo the world goes hungry and Shonen Jump subscribers finally get some new titles to break up the monotony of the last year. I've already had my say on this topic, so I won't say any more.
Halloween Con Madness!
Two cons of note happened over the Halloween weekend. MangaNEXT is a small con located in New Jersey and is dedicated to manga, as opposed to most cons that are about anime with some manga content. Reverse Thieves was there and give reports on the con, Guests and industry and Panels. It sounds like  a lot of fun, and I would love to go to it someday. The rest of my family would be bored to death, but I think I'd enjoy it.
Over on the west coast was Yaoi-con, celebrating its 10th anniversary, and boy those fujoshi can be scary! Check out Deb Aoki's con report for more info on that. Digital Manga was there with lots of news. First was the addition of several new licenses to all of their lines. Fujoshi everywhere rejoice. The other big news was the Digital Manga Guild. DMP will provide the manga, and fans can help translate, edit and/or letter the title. There will be no pay up front, but they will get a cut of the profits if/when the book sells.  This is definitely an interesting and bold step by DMP to both harness fans desire for more manga, and give people real experience with working within a publishing environment. It's real life experience that can be put on a resume proudly. Will it work? Well, that depends on the fans trust in DMP and willingness to put off some instant gratification. This is more of a "this changes everything" announcement than another iPad app.
Why doesn't Johnny Care?
Tim Beedle, a former Tokyopop Editor laments the downfall of OEL manga, and how drawing in a manga-esque style is becoming like a kiss of death for artists. While his article is good, and makes some valid points about both the comics and manga industry as well as it's fans, it the comments where the real heart of the discussion takes place. Definitely check out the comments left by Jason Thompson of "House of 1000 Manga" and Manga: the Complete Guide fame, and the conversation that follows. For me, OEL was a case of "used to hate it til I ate it." I didn't think I would ever like American created manga, just as I didn't care for a lot of American created comics, but once I was able to read some of Tokyopop's OEL for free online, I quickly became hooked. Dramacon and Bizenghast started it, but other titles such as The Mysterians and Orange Crows showed to have interesting stories and good art. Though, I have to say Nightschool is by far the best, and my favorite so far. While I do like some of the adaptations that are coming out, I have to agree with Jason about one thing. Tokyopop was at least trying to come up with some ORIGINAL content, something that seems to have become a taboo word in the world of entertainment. While not everything they came up with was a big hit, at least a lot of it was new different.
NYT Bestseller List
More good changes on the list this week. Twilight seems to have finally, officially left the Hardback list until Christmas, the next movie is releases, or the next volume comes out. Odd Thomas drops off the Paperback list this week as well. The manga list has had an overhaul after two weeks of a stable top 5. Taking over #1 is Negima! vol 28 with Naruto vol 49 falling back to #2. Black Butler returns with vol 3 to #3 with Soul Eater vol 4 at #4. xxxHolic vol 16 debuts at #5 as does Pandora Hearts vol 3 at #6. Hetalia Axis Powers vol 1 falls four to #7 with the debut of the final volume of Night School vol 4 at #8. Black Bird vol 6 falls the farthest from #2 to #9 while Melancholy of Suzumiya Haruhi vol 7 debuts at #10. Yen Press is back, dominating the list with 5 of the 10 spots. Del Rey still has some strong sellers with titles taking not just two spots in the top 5, but also taking #1. Viz and Tokyopop have to split the remaining spots, and I'm kind of surprise to see the traction that Hetalia Axis Powers has had. I wasn't as impressed with the what I read of the first volume. With Viz having a big release this week, we have to see if Yen Press and Del Rey can keep ahold of the spots.
Manga For Your Ears
Sci-Guys Podcast
Episode 39 – Neon Genesis Evangelion: Campus Apocolypse – 35:35
Episode 41 – Vampire Hunter D & Horror Manga
Episode 43 – Cardcaptor Sakura, Wild @ Heart, Pokey Day  – 46:22
Spiraken Manga Review
This Week at Manga Village
What I'm Reading
Maoh vol 2-3
Bakuman vol 2
One Piece vol 1
Library Wars vol 2
Grand Guignol Orchestra vol 1