Viz has been hyping changes lately. Back in July, at SDCC, they promised big changes for Shonen Jump. Two weeks ago, they started hinting at "big changes" coming "soon". Those "big changes" have finally been revealed. Shonen Jump will have some exclusive online manga that only subscribers can access, and they will be selling manga through an iPad app.  Whoo. Big changes. Yeah….uh, no. There is nothing really big about these announcements, nor are they any real changes.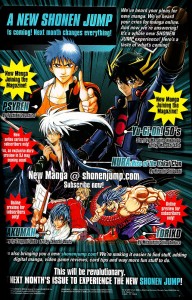 Shonen Jump has needed some new manga for a while. It's been one long stream of shonen fights, and frankly has gotten really monotonous over the last year. There's been nothing new or different to break it up. Finally, with the new issue that comes out in December, there will be some new manga coming to the magazine. Psyren and Yu-Gi-Oh 5D will be added. Finally, they are back to keeping their promise of there always being a Yu-Gi-Oh title in Shonen Jump. While Psyren looks to be another battle manga, it at least doesn't have ninja or shinigami or pirates. It's fighting monsters in the future.
In addition, and apparently supposed to be the "big" news, was the addition of 3 titles that will be available online for Shonen Jump subscribers only. Bakuman and Toriko, which have already had volumes released, and were previewed in Shonen Jump will be available as well as the new title Nura: Rise of the Yokai. I'm actually enthused about being able to read Nura. I was hoping for it being in the print mag, but having access online isn't bad. My only problem is keeping up with the online. I hope Viz follows Yen Press' model of keeping chapters available for more than one month. A two month lee-way should be enough. Even better would be to keep them available until the print volume comes out, like they do at Shonen Sunday and SigIkki. As a subscriber to Shonen Jump, I like this news. I don't think it "changes everything" like they touted, but it's nice to have more titles. After being spoiled with 6-7 titles a month, the drop to 4 has been disappointing. Even if I didn't care for them all, they still passed the time.
The other half of this "big changes" was the release of an iPad app that allows you to download and read full volumes. I'm sorry, but this is the least exciting of the news they could release. Everyone has an iPad app. Big whup. If they had announced a Android and/or Windows Mobile as well, or instead of, then it would have "changed everything". Being just another app of millions isn't ground breaking. It might be argued that because they are offering Japanese manga, unlike Yen Press, which is starting with their OEL and Korean manhwa on their app, this is a big step. Not really. Viz doesn't have any OEL or korean manhwa. All they have to offer is Japanese manga, so of course their initial offerings will be from Japanese publishers. And they are starting with their most popular titles of course; Dragon Ball, Naruto, Bleach, One Piece, Bakuman, and Death Note, which will you can download the first volume of for free.
Publisher Weekly says:
The long awaited release of an iPad app will allow fans to download and purchase manga legally instead of seeking out scanlations, the English translations of Japanese manga made by fans and illegally posted online to read for free.
That should be rephrased to say "…will allow iPad owning fans…" Not eveyone owns an iPad and not every one ever will. Putting apps on the iPad is not going to slow down scanlation sites in the least bit. Until manga is released on all platforms in an open format, iPad apps will not do anything to stem that tide. It is a first step, but not a good one. Sticking one finger in a dike with many holes doesn't stop the flood.
I guess I should applaud Viz for taking this steps into the online world. But it's a slow applause. If they wanted to live up to their hype, the "big changes" needed to be more than just doing what everyone else is doing.  I'll be more impressed when manga becomes available on a platform other than some "i-" thing. But I am glad to be able to read Nura, and the second volume of Bakuman impressed me more than the first, so there's hope there. I'll wait and see for now. I think after the holidays we'll have a better view of the digital reader market.