Schools may lock up the the night, but class is in session for an entirely different set of students.  In the Nightschool, vampires, werewolves, and weirns (a particular breed of witches) learn the fundamentals of everything from calculus to spell casting.  Alex is a young weirn whose education has always been handled through homeschooling, but circumstances seem to be drawing her closer to the Nightschool.  Will Alex manage to weather the dark forces gathering?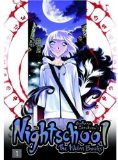 Nightschool: The Weirn Books Volume 1

By Svetlana Chmakova
Publisher: Yen Press
Age Rating: Teen
Genre: Supernatural
Price: $10.99
Rating:





[May Contain Spoilers]
Mystery, magic, and a little mayhem have always made for a good combination in a story.  Nightschool: The Weirn Books provides all of these elements in a way to make an intriguing world and a great cast of characters to live in it.
The world of Nightschool is one divided between the normal, human world of the day, and the magical, supernatural-filled world of the night.  As is usual for this type of world, the daytime world is unaware of the nighttime world, while the reverse is the opposite.  The Nighttime world is filled with the usual suspects as well.  Vampires, witches, demons and seers all roam the world of this first volume.  But there are some new creatures of the night as well.  Rippers are vampires that have become nothing but shells of their former selves and crave blood for the touch of life it gives.  And of course weirns, a witch with a different kind of familiar.  It's the latter of these that is the focus of the story.
Alex Treveny is a weirn.  She lives with her older sister Sarah, who works as the Night Keeper at the Nightschool.  Alex, however, is home schooled, for reasons that are left unclear.  She works on her assignments while Sarah is at work with her Astral, a black and white smokey-like creature.  The Astral has no name, and acts like an extension of Alex, but is still an independent character.  She can be like a conscious to Alex, but also easily bribed.  The two work together to accomplish things such as getting Alex over a tall fence, and the Astral seems to be aware of things about Alex that even she herself isn't.
Because there is something strange about Alex.  A hooded figure seems to be shadowing her.  This is just one of the mysteries this first volume presents.  Along with the shadowy figure come powers that Alex isn't aware she possesses, and a prophecy of her and others like her bringing down disaster on the world.  There's also the not just disappearance, but erasure, of her sister, seemingly from existence.  All traces of Sarah disappear both physically as well as from people's minds, until it's only Alex that has any memory of her.  Could these two events be tied together?
Part of the strength of Nightschool's story is the characters.  Alex is a strong female lead.  She is serious and determined, though for some reason there are attempts to make her seem tough, which I don't really see as necessary.  Alex stands just fine on her own strengths.  We don't need other characters tell us that she's tough on the outside, but really a softie on the inside.  Sarah, Alex's sister is more of a ditz, but obviously really cares for her.  She adds some humor in this first volume, with her inability to get up, running an anime/manga club at the school, and her encounter with Mr. Roi, one of the teachers.  Hunters, which the Night folk seem to fear, are humans that patrol the night and protect other humans from the Night.  A group of them are introduced as well as a seer, and they become connected to Alex and prophecy in more ways than one.
Nightschool: The Weirn Books is a shining example of what OEL can and should become.  It has a well written story that hooks the reader in right from the beginning and builds on it creating a strong foundation for the series.  The mix of silly and serious moments balance each other out to make an entertaining drama that doesn't drag or feel overdone.  Svetlana's art is that perfect style of feeling like manga but definitely being of her own design.  I especially enjoy the look of the Astrals.  They look so completely non-human, and yet are still very expressive. Definitely check this series out.  It's a keeper.